Join us for Worship!

In person at 10am on Sundays
You can also find us live online at 10am on Sunday mornings at our YouTube Channel which is also linked at our Facebook page. Videos of past Sundays are archived on YouTube as well. We have two YouTube playlists at our channel: one for worship and one for Godly Play stories for kids. Both are linked below!
by Seminarian Rachel Joiner
on September 15, 2021
Dearest St. Liz Family, David, Lincoln Fate, and I want to express our sincere appreciation for the Love Offering you have given us. Your willingness to love and support us in this way is truly wondrous. It is interesting to step back and view my journey from multiple perspectives because when I do it is abundantly clear that I am not...
Read More
---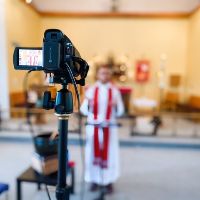 by The Rev. Daniel P. Strandlund
on May 27, 2021
It's time to resume indoor worship! As you know, "Coronatide" is a shifting landscape, and so the decisions your BC and I made in April about pandemic precautions for indoor worship are no longer...
Read More
---
by Wanda Slater
on March 27, 2018
Hello everyone! We are updating our St. Elizabeth church-wide text messaging distribution list and invite you to participate. Members of this list receive messages directed specifically at the...
Read More
---
goto page