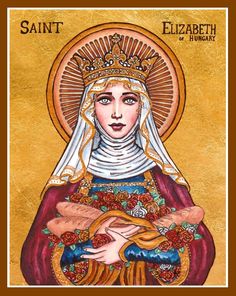 Who is Saint Elizabeth?
An inspiring role model of a young woman, Eizabeth was born in the year 1203. A princess married to a prince, she enraged the Hungarian court by selling royal jewels to build a hospital and by opening the royal grain storehouses to feed the poor in a famine. Even after she was widowed with three young children, she continued her selfless generosity. She died when she was only 24 years old.

A story is told that she was caught smuggling bread out of the palace, but when forced to open her cloak and reveal the evidence, her accusers found only roses. Her symbols, therefore, are bread and roses.