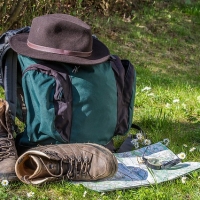 Backpacking
by The Rev. Daniel P Strandlund | July 25, 2019
Hi friends, I recently returned from a backpacking trip at Duncan Park in Colorado. Duncan Park is one of the Diocese of West Texas' camps and retreat centers, and each summer they host groups of families and youth and adults. I can't recommend it enough. If the three DioWTX camps—Mustang Island, Camp Capers, and Duncan Park—were Hogwarts Houses, I'm fairly certain the Sorting Hat would've made me a Duncan.
I served as the chaplain for the backpacking group. I backpacked with three other adult leaders and eight youth for four nights and three full days of hiking. We covered between twenty-five and thirty miles, starting at an elevation of around 10,000 feet and climbing most of another 3,000 feet.
I'd never backpacked before, so while this wasn't exactly trekking the entire Appalachian Trail, it was still a major undertaking for an inexperienced backpacker like me. There were lots of surprises along the way, but one that sticks out in my memory is that the trail actually got
easier
the longer I was on it.
There are several reasons for this. First, at some point on our first day I learned that I was wearing my pack incorrectly. With a regular backpack, the weight stays on your shoulders, and I assumed that our big camping packs worked the same. But it turns out, big camping packs come with those padded, wrap-around-your-waist straps for a reason! Our hips are designed to carry more weight than our shoulders are, and once I shifted the weight things were much easier.
Second, the longer we were on the trail, the more food we ate and more water we drank, meaning the packs literally got lighter as we consumed our supplies. "Every ounce counts," they told us before we left, and they were right. Three Cliff Bars and a big bag of oatmeal don't weigh very much...until you've carried them around for three days and twenty miles. Fortunately, Cliff Bars and oatmeal aren't the kinds of things you have to carry the whole way; they're temporary burdens.
Third, and this one is the hardest to articulate, after a couple days of walking together, we just got into a kind of zone. Our last day we hiked around seventeen miles, but I have to say, we could've kept going. Our feet hurt, our backs ached, and we all wanted a hot meal and a shower—but we were each a little leaner in the soul than we had been before we left, and we trusted each other more. If you spend a few days drinking water someone else has carried from the river, you can't help but feel some fondness for them.
I heard a proverb once that goes like this: "If you want to go fast, go alone. If you want to go far, go together." That chimes with my experience in Colorado. We didn't do much of anything particularly fast. But even at the end of our longest and final day of hiking, we could've gone physically farther and spiritually further—because we were going together.
I don't mean to paint our hiking group with too rosy of a brush. We made mistakes and got on each other's nerves. Some of us were ill-prepared for what we were setting out to do; some were only there because our parents had made us; and at one point we had to abandon our original plan and turn back. Once, on a steep incline in the trail, one of our number needed some help. We removed some items from his pack and redistributed them. For reasons unknown to me, this particular pilgrim had brought along a book of ghost stories thicker than a Houston phone book. The thing must've weighed two pounds. I was speechless as I put it into my own pack and kept walking.
Despite all of that, somehow the hike got easier as we climbed and descended and climbed again. We ate the miles with our boots and were fed by that landscape in which we knew that we were creatures made of dust and gifted breath. Eventually the polish, frenzy, and tech-addictions of our allegedly more civilized lives were worn away, and we were at home in the liturgies of fetching water and wood.
There are some verses from Matthew we prayed each night on the trail. They're recommended for reading in "An Order for Compline," a service from the Prayer Book designed to be said right before bedtime. Perhaps you know them:
Come to me, all who labor and are heavy-laden, and I will give you rest. Take my yoke upon you, and learn from me; for I am gentle and lowly in heart, and you will find rest for your souls. For my yoke is easy, and my burden is light (11:28-30).
In my experience, these words of Jesus become true over time. Occasionally, maybe once or twice in a life, we have a kind of conversion experience, an encounter with Jesus after which our souls feel immediately and irrevocably lighter. But for the most part, we who labor and are heavy-laden have to spend a lot of nights and miles in the woods learning to carry Christ's yoke. His lightness of being is a discipline.
The truth of the matter is that the lightness Christ promises is not some new thing we receive and then simply walk around with. We don't always get a newer, better life in exchange for the one we've been living. Faith is not a branded piece of gear from REI; grace is not an added piece of equipment. Instead, the yoke of Christ, this rest for weary souls, often begins by learning to carry more naturally the burdens we already bear.
This grief, this particular source of anxiety—do you wear it in your shoulders, or on your hips where it belongs? Perhaps you're trying to bear an emotion with your mind instead of your heart, or you're relying too much on your feelings instead of simply taking action to change a situation.
These habits you're still lugging around—are they the kinds of gear you need to keep, or were they always supposed to be temporary burdens, like oatmeal and Cliff Bars? Maybe it's time to eat them, thank God for what energy they've provided up till now, and move on a little lighter on your feet.
Finally, who's on the trail with you? Are you trying to go fast or are you trying to go far? Are the ghost stories you carry your own? And if not, is it time to give them back to their owner?
It is an easy thing to talk about letting Christ bear our burdens. The truth, however, is that some burdens we cannot or should not cast off; they are the tents in which we sleep and the pots from which we eat. Not everything heavy is sin to be repented of entirely. Not every weight is extraneous. Love, work, and memory; relationships chosen and not chosen; illness and desire and age; the million inconveniences of morality: we cannot simply cast these off and leave them in the woods. They are the very stuff of which life is made; they're not ghost stories. There is no campsite and no community of backpackers without them.
Christ's invitation is that we carry all these lightly, with hearts made lowly and gentle. To ask God to disburden us of them is to ask that we cease being human.
When Christ invites us to take His yoke and learn from Him, He does not simply mean that He's going to carry our backpacks for us or replace them with some new feather-light, sweat-wicking spiritual life gear. Perhaps He simply means that the burdens we already carry will get lighter with the miles. They will become less strange to us, less foreign, until one day they no longer feel like burdens at all but simply part of a life lived unafraid of rain and unshielded from starlight. Perhaps one day we will be seasoned enough to receive their weight as our blessing.
If you're like me, you don't know what that feels like yet.
So let's keep going. Who knows what we'll see from the next rise?
God's Peace,
Fr. Daniel+