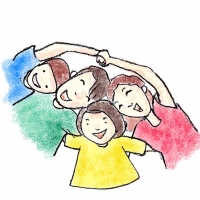 Bishop Reed, Godly Play, and Two Services
by The Rev. Daniel P Strandlund | October 3, 2019
Hi friends, it's been a busy week, so today I've just got some news and a few reminders for us. Three things:
First, Bishop Reed has his annual visit with us this weekend! Bishop Reed will preach and preside at the altar at both the 8:45am and the 11am service. Additionally, on Saturday evening, all those who are being confirmed, reaffirming their baptismal vows, or are being received into the Episcopal Church will gather in our worship space at 5:30pm for a brief prayer service and will then have dinner afterwards. We have five folks being confirmed, five being received into the Episcopal Church, and five reaffirming their baptismal vows. Please keep them in your prayers. (We'll also have one baptism Sunday!)
Second, an update on Godly Play: for the foreseeable future, Godly Play will meet during the 8:45am service and will split off with the GP leaders to the Mission Hall early on. This is not permanent, but we could be in this arrangement for several months, depending on how long our "short-on-space" season lasts. Again, thank you for your flexibility. Long-term, the plan is still to have Godly Play in between services, simultaneously with Christian formation offerings for adults.
Third, we've had one full month of our new, two service schedule. I've heard directly from some of you how it's going for your household. I know that for some, it's going really well, and I'm glad for that. I also know that for others, this is a real challenge, especially because we're not seeing the same people as much as we used to on Sunday.
This deserves more space and attention than I can give to it in this little post, and I intend to address it further. For now, I just want you to know two things. First, I am happy to sit down with you or your household to hear how things are going for you, regardless of how your household feels about the new rhythm (and I'll admit we've not done this for quite long enough for
rhythm
to be really established). If it's going great for you, I'd love to hear it. If you're apprehensive, I would love to hear that, too. This
is
a significant change for us as a community, and feeling discombobulated or lost is normal and appropriate for a change like this. It does not mean that our current feelings of being dislocated as a community is permanent. They are not.
That doesn't mean we're not feeling it right
now
, though. So in case an invitation is helpful: this is still very much
your
community, and you deserve to be heard. I'm doing my best to identify and sit down with folks whom I think might appreciate a conversation. I do not want to miss anyone but inevitably will. Know that if you'd like to sit down, I am more than happy to do so. I hope you'll let me know.
Finally, and perhaps most important, remember that the actual worship services themselves—whether 8:45am or 11am—are really only half of Church. The other half happens beforehand, drinking coffee in the lobby. Or afterwards, watching the kids play in the yard or on the playground. For many of us, the other half of Church is Life Group or choir on another day of the week. For many of us, though, Sunday morning is the real heartbeat of everything. So, I encourage all of us to come early and linger afterwards. Your friends miss you. Remember that
you
are what makes St. Liz special. Abide a while on Sunday mornings. And if there's someone you miss who might be going to the other service, maybe make a plan to meet each other in between while the kids rack up the miles on the swing set. We are still One Body in One Lord, One Faith, One Baptism. We are just in a season where that truth requires a bit of extra intention on our parts to be
felt
as true.
I continue to be grateful for all that you are and for all that we are becoming together.
God's Peace,
Fr. Daniel+