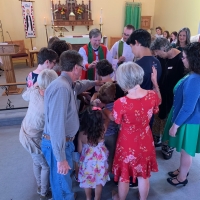 Closing the Gap
by The Rev. Daniel P Strandlund | October 10, 2019
Hi friends, anytime we're in worship on Sunday morning, we're always worshipping as, on behalf of, and with two different but overlapping Churches. There's the Church we see around us on Sunday morning, and there's the Church we don't see. Something happened during Confirmation this past Sunday morning that reminded me of this phenomenon.
The first kind of Church, the Church we see, is fairly easy to articulate: it's the people with us in the pews; the kids spread out on the floor coloring; the choir and other ministers; the kids in the nursery; the ushers going back and forth to open doors for folks. The Church we see is simply that: the folks here with us. We can
see
them. But the Church we
don't
see is a bit more complicated. The Church we don't see has several layers to it.
For example, the one, holy, catholic and apostolic Church isn't
just
the folks physically gathered at St. Liz on Sunday morning; nor is it all Episcopalians everywhere; nor is it even all Christians of all kinds currently on planet earth! No, the capital-C Church is spread out through all of history. She includes our patron, St. Elizabeth of Hungary, and St. Francis of Assisi. She includes Mary Magdalene, Paul, and Peter. The capital-C Church includes our loved ones who have passed away. Folks like Barbara Goodson, Bobby Wilder, Ray Chatterton, Keith Soechting, George Walker, and Fred Reyna.
When we gather for worship, these folks gather with us, even though we don't share the same physical time and place anymore. This past Sunday during our confirmations, receptions, and reaffirmations, as I watched Bishop Reed lay his hands on our friends and neighbors in sacramental prayer, I saw the gap between us and our forebears closed.
In the Episcopal Church, we recognize what is called apostolic succession. In simple terms, this means that the bishops who laid hands on Bishop Reed to make him a bishop in turn had episcopal (i.e. bishops') hands also laid on them. And so on, all the way back to Christ's first followers. In other words, what we see in the Office of Bishop is a person who, on behalf of the Church, stands in a long, sacramental line of people whose job it is to close the gap between the Church of the past and the Church of the present. On Sunday, Bishop Reed helped close that gap for us as he laid hands on Bill, Theresa, Kevin, Brian, and Lucy in confirmation. He closed the gap for us as he held the hands of Natalie, Lillie Ann, and Veronica as they were received into the Episcopal Church. He closed the gap as he blessed Barb, Laura, Maddie, Sam, Maria, Tina, and Lisa in reaffirmation. It was a beautiful thing.
But there are other layers to the Church We Don't See. On any given Sunday, there are folks who are very much a part of St. Elizabeth as we exist here and now, but who are unable to be physically present. They could be traveling for work or for pleasure, for example, or they could be home with a cold. Or they could be homebound more permanently. These last are on my mind a good bit right now, and I think we could do a better job in closing the gap between those of us who are able to gather physically together on Sunday and those of us who are not.
One of the ways we can do this is by calling them, or knocking on the door, or sending flowers or a card. Another way is by bringing them communion: physically bringing the bread and wine consecrated on St. Liz' altar to them wherever they may be. I do this a good deal myself, but this is not the kind of ministry that only priests can do. To that end, I plan to train teams of Lay Eucharistic Visitors (LEVs) to help close the gap between those of us physically gathered around St. Liz' altar on Sundays and those who were prevented by illness or injury from being there.
This is a need we've had for a while, and as we continue to grow and as my own responsibilities multiply, I'm more aware than ever that this is a good step for us as a congregation to take. I have some names of folks in mind already to serve as LEVs, but if you are interested, I do hope you'll email me. I'm counting on the Bishop's Committee to keep me accountable to this commitment.
Finally, for us at St. Liz, we're experiencing a third layer to the Church We Don't See: we now have two services, which means that one household can worship at 11am without actually seeing another who worshiped at 8:45am that day, and vise versa. Just the other day I heard someone say, "We missed you at church last week. Everything okay?" to which the other replied somewhat quizzically, "No no, we were here. Oh! We came to 8:45."
This reality feels different to us. For some, this is just a new scheduling quirk . For others, it's just like the schedule at St. Elsewhere where we used to go. For others, it's a significant change to our substantial, emotional and communal experience of St. Liz. This is true because the reality is that worship—by which I mean everything we do from the opening hymn through the dismissal—is really only half of church. The other half happens beforehand, or on the porch afterwards, or at choir practice, or at Life Group.
What I want us to remember is that, even though the schedule change isn't a big deal for many of us, each of us does have a responsibility to help close the gap. Each of us is part of what makes St. Liz whole for everybody else, regardless of whether we realize it. As we continue settling into our new normal, I hope you'll remember to practice a little
in
-reach. Linger after the 8:45am awhile. Come hang out a bit early before the 11am. Make plans together after worship. If you're part of a Life Group, maybe consider inviting some familiar faces along with the new ones. We have a new gap in our common life. This is just true. Let's be gentle and extra-attentive with each other as we adapt to it.
Finally, a story from this past Sunday. Many of y'all know Bill Jones and his daughter Theresa who joined last year. They were both confirmed on Sunday. As Bill isn't comfortable standing for too long, so Bp Reed confirmed Bill where he was seated in the congregation. Afterwards, it was Theresa's turn, so she came forward to kneel with Bp Reed at the front. Several of Theresa's friends came up to join in the laying on of hands, but Bill wasn't able to come forward. I walked over and held Bill's hand, not really thinking too much about it, and without missing a beat Kevin Hammond jumped up and grabbed my other hand. Kevin stretched his arm out to the group of folks around Theresa and Bp Reed and made a kind of human chain between Theresa and Bill.
That's just good Church. When we're separated for one reason or another, we help close the gap for each other.
Thank you for reading, and God's Peace,
Fr. Daniel+