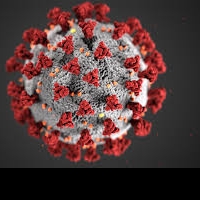 Coronavirus Update as of 3/13/2020
by The Rev. Daniel P Strandlund | March 13, 2020
Coronavirus Update for Friday, March 13, 2020
Given recent cancellations by the City of Buda (and other bodies), and today's declarations by Governor Abbott and President Trump, I no longer feel my last communication to our St. Liz family about the Coronavirus to be sufficient. I wrote it Thursday morning, which now feels like a very long time ago. I am writing with yet another update.
Barring unforeseen communications from the Bishop or from other authorities, here is our final answer for the remaining Sundays in March:
*I will officiate and preach at a service of Morning Prayer at both 8:45am and 11am.
This is primarily because I know this communication will not reach
everyone, and that in times of heightened anxiety, many who are not regular members of a faith community are led to seek the comfort of prayer and the proclamation of the Gospel. I intend to keep our doors open on Sunday mornings for this eventuality.
*I will record a video of my leading Morning Prayer and preaching and post it as a
video on Facebook by 8:45am each Sunday morning. You are encouraged to pray from home.
*We will not celebrate communion.
*All Sunday activities and ministries are suspended. This includes
nursery, coffee hour, Children's Chapel, Godly Play, Choir, Sunday School for adults, and Newcomers Class.
*We will not pass the Peace as this is not an intrinsic part of Morning Prayer. An
alms basin will be available for offerings but we will not pass a basket.
*Our entire Sunday volunteer schedule (MSP) is suspended. BC of the Day, Altar
Guild, Ushers, Greeters, Lectors, Intercessors, Verger, Children's Chapel, Godly Play, Lay Eucharistic Visitors, coffee hour, etc.
This may sound like a lot. You have heard me say before that St. Elizabeth runs on Holy Spirit and faithful volunteers. I believe the above changes to be good ones precisely because of how faithful you are in your work, both in formal volunteer roles and relationally. Suspending all volunteer work seems to me the only way to guarantee that the
whole
Body of Christ at St. Liz has the opportunity to rest in the midst of so much anxiety. Your Bishop's Committee and I are in agreement that these steps are in the best interest of our congregation.
Answers to other questions you may have:
*I will handle pastoral issues, including home communion, on a case-by-case basis.
Please be advised that some hospitals, nursing homes, and retirement communities have taken precautionary measures that may prevent my visiting in certain instances.
*We will continue to pay all of our administrative, nursery, and housekeeping staff
at their usual rates so that none of them are financially burdened during this interruption of our usual community practices.
*Tuesday Morning Prayer will not meet.
*As of my last communication with them (this morning), Meals on Wheels will
continue uninterrupted in the Mission Hall.
*Our various Scout troops will cancel or continue events as they see fit and
will do their own communication. I have asked them to confine themselves to the Mission Hall and to wipe all surfaces and door handles with disinfectant after their gatherings.
*St. Liz is holding no official Life Groups for the remainder of March. However, your
house is your house. If you'd like folks to keep coming over, by all means invite them.
Thank you for your patience as we navigate this uncharted territory together. I remain grateful for all that you do and all that you are. While I do not welcome the Coronavirus or its interruption of our common life, I do pray that we have the grace to receive this as a great
Hush
from our Creator in the midst of our fevered lives.
I leave you with the words of the Psalmist (46:11-12):
"
Be still, then, and know that I am God;
I will be exalted among the nations;
I will be exalted in the earth."
The Lord of hosts is with us;
the God of Jacob is our stronghold.
God's Peace
Fr. Daniel+