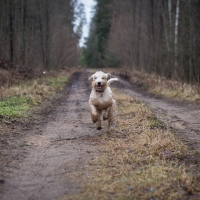 Easter Season Guest Author Series: the Rev. Alex Easley on Mark 16:7
by The Rev. Alex Easley | May 10, 2018
"But go, tell his disciples and Peter that he is going ahead of you to Galilee; there you will see him, just as he told you."
I have an Australian Shepherd named Francis. Francis sort of resembles a Muppet; he is a little silly looking and irresistibly cute. He is an excellent companion, especially if you enjoy snuggling on the couch. Francis is always happy to lounge and laze. But if you want him to get up and get moving, you just have to say the magic word: "Vamos!"
Vamos
in Spanish means, "Let's go!" Growing up in South Texas, a few Spanish words naturally worked their way into my vocabulary. As kids, when my Mom wanted my sisters and me to hurry up and get out the door for school or church, she would shout, "Vamos!"
Now I say the same to my dog Francis. When I say, "Vamos, Francis," he jumps into the air like he's received an electric shock. Tail wagging, trembling with excitement, he runs to the door. He knows that "Vamos" means that he gets to go on an adventure, like go for a walk or for a ride in the car. And his whole furry little body seems to say in return, "Let's do it! Let's go!"
In the Easter season, we celebrate and contemplate the ways that the Risen Christ made himself known to his disciples after his resurrection and continues to make himself known to us today. All four Gospel accounts of the resurrection share a common theme: when Jesus's disciples discover the mysteriously empty tomb, they are told to
go.
In Matthew, the angel tells Mary Magdalene, "Go quickly," and when Jesus meets her on the road, he, too, says to her, "Go" (Mt 28:7,10). In John, the Risen Lord tells Mary, "Do not hold on to me, but go" (Jn 20:17). In Luke, Jesus first appears to disciples who are indeed already on the go; he walks and talks with two disciples who are going to Emmaus (Lk 24:13-35). And finally, in Mark 16:7, the angel tells the women at the empty tomb, "But
go
…and there you will see him."
What the Risen Christ said to his first disciples, he says to us: "Go! Vamos!" Go tell people about me. Go proclaim forgiveness. Go show grace. Go make friends. Go serve your neighbor and your enemy. Go on an adventure and find my Spirit at work in new places. Go!
The Resurrection is an urgent matter. When we witness that resurrection, when we get a glimpse of the risen Christ, it wakes us from our torpor and timidity. Resurrection animates us the same way that Francis is exhilarated by the prospect of a new adventure. If we listen, we can hear Christ saying to you and to me, "Vamos! Let's go."
Alex is the rector of St. Andrew's Episcopal Church in Seguin, TX.