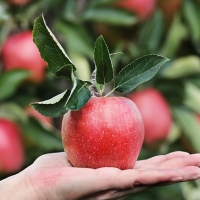 First Fruits
by Rev. Daniel P. Strandlund | October 26, 2017
Hi friends, I mentioned on Sunday that over the next few weeks, we'll be talking more about financial stewardship and giving than we usually do. That's not all we'll be talking about; we'll be doing life groups, Godly Play, altar guild training, worship, baptisms on November 5
th
, and all of our usual things, too! As a reminder, Consecration Sunday is on Sunday, November 12
th
. I hope you'll plan to attend both worship and our celebratory lunch afterwards. As part of our preparation for Consecration Sunday, today I want to write about Lucy's and my own practice of giving.
As Lucy is a fulltime student, we're a one income household. We tithe 10% of my stipend from St. Liz, before taxes. Two things about that are significant for us: first, we write a check the old-fashioned way, and two, while we've pledged in the past, this is the first time in our marriage we've tithed. I have to say, it feels really good, like coming home.
We write a check the old-fashioned way partly because I've always had a checkbook, and writing a check to St. Elizabeth twice a month is one of the few times I get to use it anymore! More important, however, is that for us, physically writing a check and placing it in the offering plate is how we offer to God from our 'first fruits.' Payroll happens twice a month, so each Sunday after a pay week, I do what my Dad taught me: look at the paystub, move the decimal one place to the left, and write a check to the church for that amount. Simple, easy, habitual.
Offering to God from our first fruits has a long history. When God leads the Israelites out of bondage in Egypt, God promises to lead them safely into a land of their own, to give them the land of Canaan (Ex. 13:11). This is God's end of the covenant. God then tells the Israelites how they are to respond: "All the firstborn of your livestock…shall be the Lord's" (Ex. 13:12). The first fruits of harvested crops shall also be offered—a better word might be
returned
—to God (Ex. 23:19). Again and again and again God reiterates the command to set aside as holy the first fruits of one's harvest, be it livestock, grain, oil, wine, or fleece (Ex. 34:22; Lev. 2:14, 23:20; Num 18:12 and 17; Deut 18:3-4, etc.). Lucy and I don't harvest much in the way of livestock or fleece, so we write a check.
It's taken us a while to arrive at 10%. We've gone from pledging 5% to making what for us was a significant increase to pledging 6%; we've had seasons of pledging around 2.5%; we've had seasons of not pledging at all and giving sporadically—we've been all over the ledger (and not necessarily in the order listed). We've given electronically on an automatically recurring system, given cash directly to parish financial administrators, done plate offerings, and everything in between.
I say all of that simply to demonstrate that a spiritual discipline of giving, particularly tithing, can take time to emerge. It's taken us seven years to arrive at our current practice, one that feels good and right.
Maybe tithing is your step to take this year. Or maybe your step is simply to begin pledging. If things are mostly unchanged and stable for you, maybe this year take a manageable step toward tithing by increasing last year's pledge by 10% (from $500 to $550, for example).
Tithing is a healthy biblical goal, but it's not possible or good for everyone. I promise, God doesn't want you to put 10% in the plate if it means being late on rent. Likewise, if you're in a season of particular bounty, then perhaps moving beyond 10% is a holy response for you.
The Israelites responded gratefully to God's saving action once they crossed the Jordan and entered the land promised to them. Tithing of their first fruits was integral to their response. Both the wilderness and Canaan belonged to God, but
that
land, the land across the Jordan,
that
geography of the soul was theirs to till and keep, theirs from which to offer to God the first fruits of their labor. Just like discerning an ongoing spiritual discipline, it took time to get there, even though God never stopped being their God.
Lucy's and my experience has been similar. For a variety of reasons, it's only now, with our arrival at St. Elizabeth, that we've begun tithing in earnest. It's one way we celebrate and thank God for the first fruits of this new harvest in this new place. Perhaps we've crossed some Jordan River of our own without realizing it. All I know is that we're grateful that God has led us to St. Liz. Like I said, for us, tithing is a bit like coming home.
God's peace, friends.
Fr. Daniel+