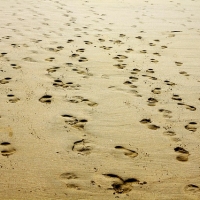 Foot Prints in the Present
by The Rev. Daniel P Strandlund | January 11, 2018
Hi friends, Advent, Christmas, and Epiphany were beautiful, and they came and went quickly, like a host of angels flashing into a field and then ascending into heaven again. In sometimes stark contrast to the celebration, throughout those seasons many of you dealt and are still dealing with illnesses of varying kinds and severities. Furthermore, many of you have been and continue to care for and support family members who are struggling with illness. Some of you are bearing witness as your loved ones die. Some of you already have. The anniversary comes; you carry on.
When we're caring for a loved one who is dying, their illness and our presence with them during it can become the center of our life. It takes up all of our bandwidth, so to speak. We're not sure what we need, or what we're feeling about any of it. We just know that it's the day the hospice nurse visits. That our son arrives at 4pm to spell us a bit. That it's time to eat or change the sheets. That she was awake for a while and might have even recognized us before drifting back to sleep, but who can be sure at this stage. The waiting between the tasks themselves is somehow the most physically demanding thing we've ever tried to do.
When the day comes for him or her to die, and he or she crosses over to the furthest shore, a new set of tasks is given. Funeral arrangements, family travels, paperwork and more paperwork. This too is part of saying goodbye. But when all of that is over, then what?
I had a conversation with a friend of mine recently about all this. He reminded me that for many people, it's the season
after
the ordeal,
after
the all-encompassing work of caring for a dying loved one,
that
season is the hardest. There's nothing but the ache to keep the mind and heart busy.
When a friend of ours is caring for an ailing loved one, our impulse is to say, "Let me know what I can do." That is a good impulse. It's the impulse of love. But remember, once the funeral is over, for most of us it's back to normal. But for the surviving family, there may still be a long stretch of lonely desert ahead. That's (also) where the Church belongs.
I attended a funeral this week at which Bishop Reed was the preacher and officiant. In his sermon, he said, "Christ's love is always in the present tense." One of the ways that is true is through the Church: we are the presence of God's love—Christ—for each other. As such, the love of Christ is always in the present tense because "where two or three are gathered together in his name, he is in the midst of them." We are here, now.
As a priest, I have the great privilege of hearing people's stories. When I'm visiting with somebody, frequently they begin to articulate where they are now in relation to some significant event at another point in time. They'll say, "And then John and I met," or "After Mom died we began to…" or "After Suzie was born" or "Once we sell the house, then…." These events are a bit like the divisions between chapters in a book. Frequently, the death of a loved one marks the end of one chapter and the beginning of another.
The Church's job—our job—is to help ensure that the members of our community are reminded that Christ's love is always in the present tense, both before the event, during, and after. The Church as a community of prayer, ritual, shared work, and affection is a kind of container in which there is grace enough and room enough for us to undergo change, particularly the painful changes associated with loss.
We are for each other the love of Christ in the present tense, even if you or I as individuals can only understand our own lives by referring to a past that no longer is, or a future of which we're no longer confident.
Again, many of us are either in the wake of loss or know it's coming soon. I want us to pay attention to each other. Remember, the season after the ordeal does not present itself as dramatically or as urgently as the ordeal itself. But it is its own kind of desert.
There's an old Christian poster about footprints in the sand. It starts out as two sets of foot prints, Jesus' and the speaker's. Then, at one point, just as the trail leads trough a bleak desert, there's only one set of footprints. The speaker looks back at the desert, incredulous. "Jesus, why is there only one set of footprints in the sand? You abandoned me right when the going got rough!" Jesus replies, "That's where I carried you."
I understand the point, but I've never liked the poster. In my experience, whenever we're able to look back at a desert and say, "God carried me," it's because there was somebody or a whole bunch of somebodies through whose hearts God did the carrying. If I were to design that poster, the speaker would look back at the desert and see that there were six or eight or a hundred sets of footprints. Little prints, big prints, the tracks of a wheelchair, and the whole lot punctuated by the tips of a few walking canes.
Those footprints are the Church, the community that comforts those who mourn. Those many footprints are the Body of Christ. May we be worthy of the name.
God's Peace,
Fr. Daniel+