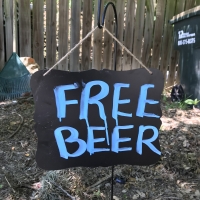 Free Beer
by The Rev. Daniel P. Strandlund | May 24, 2018
Hi friends, Fr. Daniel here. It's good to be back. I've enjoyed reading the reflections of my clergy colleagues in the Diocese of West Texas and in our geographical area. I trust you have, too. I'm glad to have them as friends and co-laborers. I'm also grateful for the break from writing they've provided me, and for this chance to return to it!
I want to tell you about an experience I had a couple weeks ago. Part of our custom at St. Liz is that when guests at St. Elizabeth fill out one of our connection cards, I take them a newcomer bag, a collection of small gifts (including a coffee cup!) assembled by one of our members. I usually drop by folks' homes right after church or on Monday afternoon the next day. I don't stay long, just give them our gift and say how glad we were to have them with us at worship.
A couple weeks ago, I drove to San Marcos to drop off a newcomer bag. Their home was in a neighborhood I didn't know, and I drove right past their house without realizing it at first. I turned onto a side street a block or so away, and pulled into someone's drive way to turn around. I looked up, and in the carport right in front of me was a young couple sitting in lawn chairs, waving excitedly. I hadn't seen them beforehand and was surprised, but I smiled and waved back. Then they shook their heads and smiled and started motioning for me to come closer and join them.
Something I should mention: when you wear a black clerical shirt everywhere, strangers excitedly motioning for you to join them doesn't happen very often. When folks react to the whole priest outfit, they usually do one of two things: make it a point to offer a very polite hello, or stare a bit and move away a little awkwardly. Excitement isn't a usual reaction.
They kept motioning for me to join them and then pointed into their front yard. There was a big grey garbage can with the unmistakable tap of a keg sticking out. Beside it was a hand-painted sign that said, "Free Beer."
I rolled down my window. "Are y'all really giving out free beer?" They laughed and said, "Yes! We got married this weekend, and it's left over from our reception. It's still cold!"
Something else I should mention: there are good and faithful clergy who think it a little inappropriate to have an alcoholic beverage in public while in uniform. I am not one of them. I delivered the newcomer bag, had a short but pleasant visit, and then returned to the free beer carport.
The couple's names were Lisa and Andrew. They're perhaps thirty years old, dated for a couple years before getting married, and each has lived in the area for a while. We talked about how Buda and San Marcos and Kyle are all growing, about marriage and weddings and receptions, about how it's more and more common for couples to delay a honeymoon for a few months like they're doing, and about how good advice for husbands is "do more household chores than you want to or think you ought to."
They smiled the whole time. They were relaxed, enjoying a couple days off together at home, and having fun waving down neighbors and passersby and wandering clergy to come have a free cup of beer. Lisa was already a member of a church, and as I poured out the last swig of my cup of cold but slightly flat Dos Equis she said, "May the Lord continue to bless you and Ms. Lucy."
"Thanks. May He do the same for y'all. Congratulations again."
The whole visit lasted maybe thirty minutes, but it was a great time. They were so happy and generous, like they couldn't wait to host people at their home for the first time as husband and wife. The free beer let them extend their wedding party and show off their being-married-ness a bit, welcoming neighbor and stranger alike into the celebration.
Driving back to Buda, I couldn't help but think of the Wedding at Cana. Jesus attends a wedding in the village, and when the wine runs out, Jesus' mother approaches him. After a rather rude initial response to his mom, Jesus performs his first sign: turning over a hundred gallons of water into the best wine yet tasted at the party (John 2:1-11).
Like Lisa and Andrew's carport, the celebration overflowed—there wasn't just
enough
, there was an abundance, and that abundance was poured out for a whole community. This was something special, a celebration.
My next thoughts were less comfortable. For a lot of us, this isn't what our relationship to alcohol is like. For a lot of us, beer and wine aren't markers of celebration in community, but instead are necessary ingredients in our sense of normalcy. A glass of wine to take the edge off, a beer to calm our anxieties about this or that. If we miss our drink after work, we get irritable. If we have one beer, we always seem to have two or three more.
I'm no Puritan. Many of us in the Episcopal Church have deliberately fled Christian traditions where alcohol is considered intrinsically sinful. (Hopefully we left for better reasons that just that one!) I think that view is hard to square with the Wedding of Cana. However, that view takes seriously the fact that alcohol can quite subtly slide from being a treat to mark celebration and community to a socially acceptable anodyne for whatever anxiety, grief, or boredom we'd prefer to keep below the surface.
I'm no expert, and I'm not trying to parse the line between what is healthy and what is self-medicating or is symptomatic of dependence. I'm simply reminding us that the line exists, and that alcohol can't bear the weight of the responsibility we sometimes unknowingly place on it.
Let's free beer and wine and the rest from the burden of doing work it can't do. It goes better with a lawn chair and some new friends in the carport.
God's Peace,
Fr. Daniel+