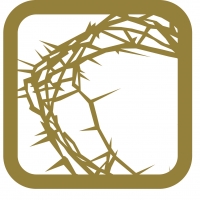 Holy Week Observance
by The Rev. Daniel P Strandlund | April 11, 2019
Hi friends, on Sunday we begin Holy Week, the most sacred time in the Church year. A full schedule of services is available on the website and on take-home calendars at the church. Today, I want to suggest something simple: mark this week, amongst all weeks, as special by adopting some kind of intentional devotion.
I don't necessarily mean anything grand or dramatic; one need not wear sackcloth. But there are lots of practices available to us. Fast on Good Friday (from meat, from alcohol, from lunch entirely, etc. as appropriate for age, health, and activity level). Come to Morning Prayer on Tuesday like you've been meaning to do for so many weeks. Write that letter to your godchild you've been meaning to write. Plant a flower bed. Tell the coach your family is skipping baseball/track/volleyball on Good Friday, just this once, because, well,
this
Friday is different.
Holy Week is a lot: a lot of worship, a lot of bible passages, a lot of divine and human drama, a lot to think about, and—in the end!—a lot to celebrate. Any special devotions we observe, whether privately at home or publicly in worship, don't get us extra sainthood points. They're simply ways to remind us that it's good and right to let first things come first. For us, the life, death, and resurrection of Jesus of Nazareth is the first thing. (It's also the last thing.)
So, if you're looking for a way to let this week be special during your own time, here's one very simple but specific idea. On Palm Sunday, we're going to hear the Passion Narrative of Luke's Gospel. It's the full Last Supper, trial, and crucifixion narrative. If you're like me, hearing a text just once in worship on Sunday doesn't always let it sink in all the way. So tonight, why not sit down with your own bible and read it? The full passage is Luke 22:14 – Luke 23:56. Read the whole thing; hear it again at worship on Sunday; and then maybe read it again on Monday or Tuesday of Holy Week. Sit with all the betrayal, the confusion, the tension, the violence, the strangeness of it all. Sink with Christ into the darkness as he is blindfolded. Listen to the voices of the thieves crucified with Jesus on either side of him. Feel the Centurion's…well,
what
exactly does he feel?
And then, at sundown on Saturday, just before Easter, read the Easter account, Luke 24:1-12. It picks up right where the Palm Sunday Passion ends, and it's where we'll be for Easter morning…with flowers!
God's Peace,
Fr. Daniel+