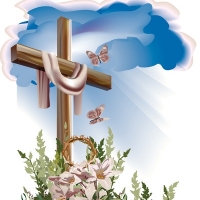 Holy Week: What to Expect
by The Rev. Daniel P Strandlund | April 3, 2020
Needless to say, this Holy Week will be different, and not in a way any of us would like. There's much more to say and to reflect on about all of that, but the time will come. Today, just the facts of what you can expect for Holy Week and Easter.
We will observe Palm Sunday, Maundy Thursday, Good Friday, and Easter morning. We will not hold a Vigil, nor will we gather on our physical campus for any services. Sadly, neither will we celebrate the Eucharist on Easter morning.
Videos for each service will be available on our Facebook page and YouTube channel. I will preach for each service, and bulletins will be provided via email. Wanda and Mark Slater have begun recording some musical pieces to be included with each service. For my part, I have been working to better my online movie making skills, and I am happy to report that our Holy Week services will include faces other than mine on the screen.
Specific services:
Palm Sunday will be up by 8:45am this Sunday, April 5. The service will include the traditional Palm Sunday opening with the appropriate Gospel passage. (You are encouraged to bedeck your doors with branches of any kind!) Our Palm Sunday celebration will combine elements of Morning Prayer and Stations of the Cross.
Maundy Thursday will be up by 7pm on Thursday, April 9. The service will mostly follow the order for Evening Prayer given in the
Book of Common Prayer
. I will miss observing the stripping of the altar and holding our traditional foot washing. Households with multiple persons are encouraged to wash each other's feet as so moved.
Good Friday will be up by 7pm on Friday, April 10 (though I hope for it to be available earlier). The service will follow the traditional liturgy appointed in the Book of Common Prayer as closely as possible. I will miss seeing our cassock-clad lay ministers bringing in the rough wooden cross. I am somewhat surprised to notice that I will also miss hammering the cross and hearing it hammered by you. The long silences, at least, we may still observe.
On Holy Saturday, I encourage you to observe your own private devotions as much as possible. Fasting from meat, extra silence, read John18:1-19:37, etc. Or, if it better suits your piety and household, begin decorating or making ready for Easter! Both approaches are acts of faith. In a more regular time, our physical church campus would be bustling with flowery activity on Holy Saturday.
Easter Sunday will be up by 8:45am on Sunday, April 12. The service will (mostly) follow the order for Morning Prayer given in the
Book of Common Prayer.
As a reminder, I'm inviting the kids of our congregation to tell jokes! (Parents, send videos to me via email. Depending on how many we get, we may sprinkle them in throughout Easter Season.) I'd also encourage the congregation to display the word ALLELUIA! prominently in your home beginning on Easter Sunday, and if you can manage it, get that big beautiful word out onto the lawn or on your front door or on the sidewalk, too, where people can see it. We need it more than ever. Personally, I'd like to shout it right into the face of COVID19.
One other Easter treat to look forward to: our Godly Play team has been hard at work despite the pandemic, and in the days following Easter, Godly Play videos will be available online as well. They are great for kids, but for the adults out there, if you've never seen one done, I recommend it.
I look forward to walking together through Holy Week. Remember that the
together
part of that sentence takes extra work and creativity right now.
God's peace, and keep taking care of each other.
Fr. Daniel+