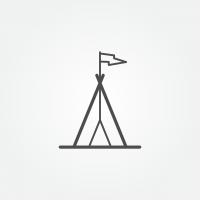 It's Time for a Second Service: Introducing the Campsite
by The Rev. Daniel P Strandlund | February 21, 2019
Hi friends, at our Congregational Meeting this past Sunday I announced that we're in need of a second worship service on Sundays. For those who missed the meeting, I want to say again why that is and how you can help our community during this (exciting!) period of growth.
Why add a service? The simple answer is that we're growing! Some numbers: right now, if we pack every single seat in our worship space, we can fit 163 people. And I mean
every single seat
: we can only get 163 in there if we count the piano bench, full choir and horns, a full altar party, both rocking chairs at the back, all three chairs by the sound cabinet,
and
the bishop is visiting. This 163 number is largely theoretical, however, because in the primary congregational seating area there are only 139 seats. This means that we begin to
feel
full well before we get to our 'bishop's visit max.'
Along with our consultant, Dr. Whitesel, a host of seasoned pastors will tell you that a church tends to stop growing when its worship services get to about 80% capacity. The reason is simple: it quite literally feels like there's no room for anyone else. For example, if you're a family of five who is new to St. Liz, and you walk into church at 10:32, you're just not going to find five empty seats all in a row. The seats are there, but they're spread out in ones and twos. Your best case scenario is that some friendly folks skooch over and make room. (
Skooch
is the technical theological term.)
Even if the skooching experience is pleasant and friendly, it nevertheless begins to flip a subconscious switch in our minds. We're social creatures. At an instinctive level we only want to join a group (i.e. a church) in which we're sure there's room for us. If we're already part of that group, we only want to invite new members if the group doesn't already feel full. Somewhere around 80% capacity a room begins to feel full; we test the limits of skooching; and growth plateaus into stasis.
In a community like Buda whose population is growing so quickly, stasis is not a faithful option, and it's just not the reality in which St. Liz finds ourselves, anyway. Over the past six Sundays, for example, our
lowest
attendance was 115 and our highest was 135. We're mighty close to being 80% full every week. It's time we create more space by adding a worship service.
This is a happy development, and it's been on the horizon for a while. St. Liz began conversations about it in 2016, but back-burnered the project during our clergy transition in 2017. Suddenly, it's back on the table! I will admit that I had not anticipated we'd be addressing this exciting possibility quite so soon, but the Holy Spirit doesn't work on our time table. So here we go!
In the short-term, I'm proposing a temporary solution the primary goal of which is to free up some space in our 10:30am service. Here's what we're going to do:
Starting on March 3
rd
, we're going to begin holding a second worship service on Sunday mornings at 8:15am, and we will try this for seven weeks (through April 14
th
). It will be significantly pared down—45 minutes—compared to our current worship service. Less music, fewer readings, less pageantry in general. For example, I intend to wear a stole, my black clergy shirt, and cowboy boots, but not a traditional worship alb. While the new service
will
have Holy Communion, we won't have a procession.
We're entering into uncharted territory, exploring off the map a bit. Because of that, what I need, and what we need as a community, is for this trial service to begin with a pioneer spirit. Instead of trying to simply double our ministry schedule—asking our ushers and acolytes and LEMs to pull double duty each week—we're going to treat this new service as though we were setting up a campsite in new territory. Just like setting up a campsite, each of us 8:15'ers will undertake 'camp chores' on behalf of the community, only instead of setting up a tent or going for firewood, we'll be greeting folks, or leading Prayers of the People, or serving a chalice, or brewing coffee after worship. And we will do this
without
our necessarily having been scheduled to do it in advance.
So here's my specific ask: if this is going to work, I need 20-25 folks to commit to our 8:15am Campsite for 7 weeks. I want to be clear: I'm
not
asking for folks to attend 8:15am
and also
our current 10:30am service each week, though I imagine we'll have a couple folks for whom this might be necessary for one reason or another. Remember: our primary goal is to free up space in our current 10:30am service as it continues to grow. If 20-25 folks simply come to church twice on Sundays, we're not allowing that to happen.
Our Bishop's Warden, Julie Warfield, and her husband Ed have already volunteered to set up camp for 7 weeks, and I'm grateful to them for their leadership and faithfulness in this. If you're feeling called to explore this new territory, I hope you'll let me know—and soon. Otherwise, I have a feeling the Holy Spirit is going to have me call some of you and say, "You know, I wonder if God is calling you to come to church earlier on Sunday…." J
Our Campsite Service has additional benefits other than being easily implemented in the short run. First, it allow us to try new things as we discern what exactly God is shaping this new service to be in the longer term. I've already had one guitarist offer his musical services, for example. I've also got some ideas on how to involve our many kids in tactile ways in the service. The beauty of this seven-week trial is that we're not committed to any of the things we try. If it's going well at the end of seven weeks, we'll keep doing it. If it's not, we'll scrap it and go back to the drawing board.
Second, adding a second service from 8:15am-9am will allow us an opportunity to continue growing without disrupting our existing Sunday morning momentum in the middle of a semester. For example, the Campsite will not disrupt Godly Play, choir practice, our 10:30am Eucharist, or our new 9am adult formation class. Anyone who attends our 8:15am service will still be able to participate fully in Godly Play and Sunday morning adult formation—
and
you can still hang out and drink coffee with all your friends after!
That's the beauty of the Campsite. In the long run, before we settle on a more permanent second service structure, we'll need a lot more feedback from the congregation. Again, while Campsite
could
become permanent, I am not committing us to it beyond these seven Sundays. Its primary goal is to address in the short-term the exciting demands our continued growth is making of us as a community, demands which are upon us sooner than I had anticipated. Thank you in advance for your willingness to give it a try.
Who knows where we could be a year from now? It could be that on Sundays, we have an 8:30am and an 11am service, or 9am and 11:15am, with formation offerings in between. Or some totally new idea on a totally new timetable we haven't dreamed of yet. Or it could be that Campsite works pretty well and becomes a permanent settlement.
We just don't know. We don't have a map yet because we're only now exploring this terrain. In Hebrews we read that Christ is the "pioneer of our faith" (Heb. 12:2). To be a pioneer is to tread new territory. What a gift God is giving us, that we might follow His Son beyond the reach of what is familiar. By offering ourselves today as His explorers, we help draw the maps by which future generations can navigate. If that's at all an exciting prospect to you, I hope you'll let me know.
Welcome to the frontier.
God's Peace,
Fr. Daniel+