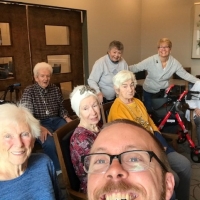 Meet our New Neighbors
by The Rev. Daniel P Strandlund | January 3, 2019
Hi friends, a Happy New Year to you and yours!
Several months ago we got some new neighbors: the residents and staff of Sodalis Assisted Living and Memory Care. When I say neighbors, I mean it! The turn for Sodalis is literally just a couple hundred yards down FM 967 from us towards town. I'd like for you to come and meet them. There are two easy opportunities coming up soon:
First, Sodalis has their grand opening for the public on Thursday, January 10
th
from 2:30pm-5:30pm. This is a come and go as you please event. I plan to be there right at 2:30 for a while.
Second, starting in 2019, the Buda Ministerial Alliance has volunteered to do services at Sodalis twice a month. I volunteered Wanda and me to go first, on behalf of St. Elizabeth. We had our first service there this week, with six residents! Wanda and I are leading another service on Wednesday, January 16
th
at 9:30am. I'd love for you to join us. (It's cool with the staff; I asked!)
All through Advent we talked about waves, using the wave as a metaphor for the coming of Jesus. We're standing on the shore, waiting on the wave to break at Christmas. Jesus has come to us in Buda just as surely as he came to Bethlehem all those years ago.
As Christian people, once we have received God's Word into our own midst, we are called to be a medium through which God's Word travels to the shores of other communities. In other words, at baptism, we are signing up to become part of God's wave to the shores of a broken world. This is what it means to be Church: we receive God's bread and are fed, but only so that we can, in turn, become bread for the world, as Christ was.
Oftentimes, this begins with something as simple as making new friends. I'm inviting you to make new friends out of our new neighbors at Sodalis.
Finally, if you're saying to yourself, "But I don't know anybody at Sodalis," that's not true!
One of St. Liz's very own, Barbara Goodson, actually moved in just a couple months ago. She was at our service this morning and would love to show everyone around the new place. Come visit!
Sodalis Assisten Living and Memory Care
645 FM 967
Buda, TX 78610
God's Peace,
Fr. Daniel+