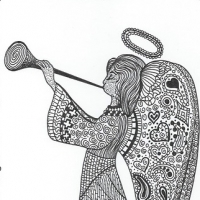 Music Incarnate
by The Rev. Daniel P Strandlund | December 21, 2017
Hi friends, I'm writing to encourage you to join me at our choir's interactive Christmas concert this Sunday—Christmas Eve!—December 24
th
. It's at 5pm in the church. And if that weren't good news enough, we also have a guest harpist and guest flautist joining us on Sunday, December 31
st
at our regularly scheduled 10:30am service. I want you to come not only because the choir and our guest musicians have been working hard for weeks, but also because music is
good
for you. Whether we're singing along or just listening, music involves us in beauty, which provokes and awakens our desire for oneness with God. In short, music is an entrance into the incarnation. I'll begin with that word
incarnation
and then work backwards to music and then specifically Christmas music.
When Christians talk about the incarnation, we're talking about God's taking on human flesh in the person of Jesus Christ. Paul says it well when he writes (or more likely quotes) a hymn about Jesus that says
he emptied himself,
taking the form of a slave,
being born in human likeness.
And being found in human form,
he humbled himself
and became obedient to the point of death—
even death on a cross (Phil. 2:7-8)
God doesn't simply 'appear' to be a human being; God isn't pretending. God's Word, through whom the sun and stars were made, really does become flesh and dwell among us as one of us in the world we know, the world where death and violence are very, very real. He "became obedient to the point of death—even death on a cross," as Paul writes.
The Son of God has a human body, mind and heart, and yet also remains entirely one with God. We see in Jesus a human person—body, mind and heart—completely imbued with divinity, all Jesus' faculties swept up in God's saving action. Jesus walked and ate; he invented parables and preached and taught; he was saddened by death and angered by injustice. All very human things, yet all entirely swept up into the life of God.
Music sweeps us up into song the way Jesus is swept up entirely in God—body, mind, and heart. Very few things we experience engage us as entirely as singing or playing music. To sing or play the drums or clap or sway to the music involves our bodies. Notes and chords are physical phenomena. When two voices harmonize, it's a physical harmony of wavelengths. When it's done well, we can
feel
it. When we're in the midst of a song, following the words in our hymnal or bulletin, our minds are engaged—reading the words, anticipating that funny high note we'll come to in the next line, trying to sing in concert with the choir or our neighbor. So often in the midst of powerful music, our hearts…change. We reach crescendos of joy, or find peace in a well-resolved chord, or for no reason we can fathom, a song sustains within us a long note of sadness we hadn't known we'd been carrying around. A song can speak words to the heart normal speech can't.
Music involves our whole being in an unfolding beauty. It's not like looking at a painting in which the art, while still powerful, is primarily the object of our observation. Rather, music pulls us into itself. Consider a familiar hymn like "Amazing Grace." When we sing it, we are lifted up into it, united with other folks in the room into an experience we didn't invent—none of us wrote that song—and yet nevertheless an experience that simply wouldn't happen without us. Because the hymn is beautiful and true, even after we're finished singing it stays with us somehow, humming along in our minds on our way to the car.
The Christian life is a bit like that: gathering together to sing a song none of us has written and yet there's no one here to sing it but us. It's a song which we never sing exactly the same way twice, and yet the song is always recognizable. Likewise, none of us invented God, and yet without the Church, there's nobody to 'sing' what God is like for anyone who might be listening. The Church today is not the same as it was 1,000 years ago, and yet it's also still familiar and recognizable as the Church.
Just as a song moves through time and changes in beautiful ways, yet without ever becoming a different song, so too does the Christian year move through time and change in holy and beautiful ways, yet without ever becoming something different. Advent is the season of preparation for Christmas, and Christmas is the season in which we celebrate the incarnation of the Son of God: the birth of Jesus.
In the incarnation of Jesus Christ, we see a human life fully harmonized—body, mind, and heart—with the music God is playing. In Jesus, that harmony is so total that it's no longer possible to tell singer from song. The Church is called to harmony like that—to listen to the song God is playing in our time and place, and to let that music involve us in itself, to sweep us up into undiscovered harmonies. God desires that our whole selves, body, mind, and heart, might be a part of that music just as the life of Jesus was and is.
What better time to hear beautiful music, to sing, to celebrate the incarnation of God's song in and among us? The choir will begin at 5pm this Sunday, Christmas Eve. I hope you'll be there to participate as part of the one, holy, catholic, apostolic and incarnate body.
God's Peace,
Fr. Daniel+