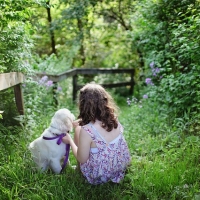 On Caring for Animals with Names
by The Rev. Daniel P Strandlund | May 30, 2019
Hi friends, my eight-year-old niece, Mary Bentley ("MB"), and her family recently adopted a puppy. The puppy's name is Kate. They began crate-training Kate from the get-go to help the new puppy acclimate to what life will be like with her new family (or her new pack, from Kate's perspective). MB might be the most empathetic human being I've ever met. So on the first night, when puppy Kate began to cry from her crate, MB began to cry, too.
For many of us, caring for an animal as a child is how we learn some of the world's harder lessons. MB is learning that sometimes the best and healthiest decisions are ones that cause us to feel a measure of sadness or loss or other negative emotion. She is learning also that the gift of being responsible for the life of a creature like Kate brings with it a heavy responsibility. When you're eight years old and your new puppy is crying for you from her crate, it
feels
like you're being mean, even though in the long run, you're just helping the puppy have good boundaries in her new home. MB is learning that as a human being made in God's image, she has to take a wider perspective on Kate's life than Kate herself is capable of understanding. Kate is a dog; it's just not her responsibility to know the ins and outs of living in a house. MB has to do that part.
Over the past couple months I've had the opportunity to pray with two different households mourning the loss of beloved animals. One was a guinea pig named Howdy and the other was a horse named Amira. When I pray with folks during the loss of beloved, named creatures like Howdy and Amira, there are two short passages I use which a friend of mine recommended. The first is Psalm 36:6.
Your righteousness is like the strong mountains,
Your justice like the great deep;
You save both man and beast, O Lord.
"You save both man and beast, O Lord." All life—human, horse, and guinea pig—belongs to God. As we read in Matthew, not even a sparrow falls to the ground apart from the attention of our Father in heaven (10:29).
The second passage is from Romans:
I consider that the sufferings of this present time are not worth comparing with the glory about to be revealed to us. For the creation waits with eager longing for the revealing of the children of God; for the creation was subjected to futility, not of its own will but by the will of the one who subjected it, in hope that the creation itself will be set free from its bondage to decay and will obtain the freedom of the glory of the children of God. (v.18-20)
Here, we see Paul making it clear that
all of creation
will one day be freed "from its bondage to decay" and will obtain a kind of freedom and glory which we do not yet know.
As human beings, when we grieve the loss of named creatures like Howdy and Amira, we do so from a perspective wider than their own, instinctive animal perspectives. It's our job to bear for them the weight of knowledge that our current age is beset by suffering and decay, decay which spares neither us nor the sparrows. It's also our job to carry the hope that one day creation itself will one day be free from this bondage. We must live and work towards, and in anticipation of, this creation-wide freedom, the end in which the earth's natural environment will be the glory of God.
Our tears over the loss of beloved animals are sometimes part of this work, just as MB's tears over crate-training her new puppy are. Our tears demonstrate our deep knowledge that human beings are not separate from 'the natural world' but that we are part of a single, created order of which Christ alone is the head (Ephesians 1:10) and within which we have a unique position and role.
A couple weeks ago I wrote about Adam and Eve in the garden and about Adam's naming of all the animals. This is part of the unique work of humans: knowing and speaking and telling stories about all of creation is part of our human work, just as running and snorting is part of the work of horses. In Eucharistic Prayer D, we Speaking Creatures join with angels and archangels and give "voice to every creature under heaven" as we glorify the Name of God (
BCP
373). We are the creatures who make explicit in word and ritual what creatures like Amira and Howdy can only do through natural instinct. We are the priests of the created order.
I have so far avoided using the word
pets
. There's nothing wrong with that word, but it does convey a kind of sentimentality I am trying to avoid. At its deepest level, our caring for pets—animals we've given names—is just one particular capitulation of our deeper role as the priests of creation. In German, the word for "pets" is
Haustiere.
It literally means "house-animals." I like this word because it captures more fully what's going on. A pet is one who has been brought into the close orbit of human domestic life. They're animals who belong to a
house,
and this proximity usually bestows on them a name: Howdy, Amira, Kate.
When MB and her family bring home a new puppy and name her
Kate,
they are undertaking the work God gave to Adam and Eve in an intentional and particular way. By bringing Kate into their house, and by using a crate so as to accommodate Kate's doggyness, they are creating a little outward and visible sign of one of the fundamental roles God has given human beings: to govern the world so that dogs can be dogs and guinea pigs can be guinea pigs. We might say that it is simply part of our humanness to steward the horseness of horses.
When an animal becomes a pet, becomes a
Haustier
, we usually give it a name. When a puppy belongs to this particular little girl, the puppy becomes
Kate.
We move beyond categories like "humanity" and "creation," which are so big as to become abstract. But we do not live in abstraction. We have particular loves and particular sorrows. Even our love for the natural world takes particular shapes and trajectories. Each of us is committed to a particular patch of ground, this or that particular corner of the Edenic new creation to which we are slowly returning. It is for this new creation that we hope and work, even as we shed tears for the horses and guinea pigs, the Amiras and Howdys, we have lost along the way.
God's Peace,
Fr. Daniel+