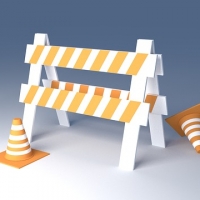 Playgrounds and roofs
by The Rev. Daniel P Strandlund | February 7, 2019
Playgrounds and Roofs
Hi friends, more exciting news for St. Liz: we've got two big home improvements going on this month.
First, on Tuesday of this week, two gentlemen from Rainbow Play Systems showed up to begin installing our new playground! (If you're at the church on a weekday this week, please be sure to say hi to Alex and Charles and thank them for their work.) The old playscape served us well and has moved on to its new home. Our new playground will take several days to install—big holes to dig, concrete to pour and set, etc.—but if weather permits, it's possible it'll be ready to go by Sunday! Thanks to Tina Otto for coordinating our playground search and to Bobby Wilder's family for making it possible.
Second, later on this month, St. Liz will be getting a new roof! While this is not
quite
as obviously exciting as a new playground, this is nonetheless an important step in our ongoing stewardship of our facilities. At the Bishop's Committee retreat last year, we began brainstorming some 'beautification' desires for St. Liz's properties. We began talking about smaller projects, but as our conversations continued throughout the year, we realized that we have some bigger ticket items that need addressing. This fall, we had outside experts take a look at our building foundation, one of the roof trusses on the interior of the church, and the roof itself. Of all these, the foundation posed no structural problems; the roof truss is not pressing; and replacing the roof emerged as our best next step.
So, our 2018 Jr. Warden, DJ Sartorio, did some great work tracking down quotes from three different contractors, did a little Chicago-style haggling on St. Liz's behalf, and now we're set for the new roof to go up later this month—again, weather permitting! We expect the new roof to go up during weekdays and not disrupt any Sunday foot traffic. If this changes, I'll be sure to let you know. I'm grateful to our new Jr. Warden, Dave McCoy, for meeting with our contractors and staying on top of our various projects.
Finally, because of
your
continued faithfulness and generosity, and because
you
continue to exhibit hospitality as we welcome new folks to St. Liz, we are in a healthy financial position and can absorb the cost of a new roof without undertaking a capital campaign. Not a bad start to 2019. Who knows what God could have in store for us just around the bend?
God's Peace,
Fr. Daniel+