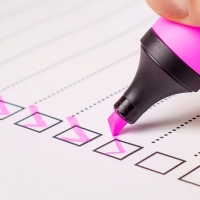 Second Service: the Next Steps
by The Rev. Daniel P Strandlund | June 13, 2019
This past Sunday (Pentecost) was our deadline for returning second service surveys. I've read all of our responses thus far, but I imagine there are still a few out there! So: if you bring yours this Sunday, June 16th, you can still return it. This is our last call for surveys. To those who have responded already, thank you. The surveys have already been invaluable to me in understanding our hopes, needs, and anxieties in moving to a two-service schedule.
Here's what will happen next: early next week, all the surveys will be typed up and the responses distributed to the Bishop's Committee. If you included your name on yours, it will be removed before being sent to the BC. They'll read, reflect on, and pray about our responses. I will continue to do the same.
I'll meet with the BC individually during the next few weeks to hear their thoughts. Then, at the Bishop's Committee meeting after worship on August 4
th
, I will present what I think is our best two-service schedule moving forward. As a reminder, BC meetings are open to the congregation, and this one is no different!
At that meeting, I will make my case. (I imagine that meeting will also bring up a great number of practical questions. "If we do X at Y o'clock, then what happens with Z?" kinds of questions. I'm excited to discover and address those together!) I will communicate our new schedule via writing to the whole congregation in the days following the August 4 meeting. As this is a decision about worship, it does not require a vote. I will make the final call. The plan is to begin our new Sunday morning schedule on Sunday, September 8
th
. This is also the day Godly Play starts back after summer.
Between now and then, if you'd like to sit down one on one, either with me or with a member of your Bishop's Committee, please don't hesitate to reach out. Given our "Campsite" experiment this spring, the surveys, conversations the Bishop's Committee has already had, and the more informal conversations I've had in kitchens and over lunch and in the handshake line, I feel good about our process. Still, I want to be sure we hear from everyone who wants to be heard. So again, if you'd like to sit down, either with me or a member of the BC, please don't hesitate to reach out.
This is an exciting and significant move in our life as a congregation, filled with new opportunities and challenges. I'm also keenly aware that, for some of us at least, the thought of any change to our Sunday rhythm brings anxiety along with it. I have some myself, so know that I don't take it lightly. I'm grateful for your trust.
God's Peace,
Fr. Daniel+