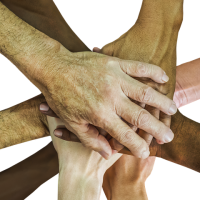 The Bishop's Committee
by The Rev. Daniel P Strandlund | February 1, 2018
Hi friends, I'm writing to update you on the membership of our Bishop's Committee (the "BC"). The Bishop's Committee is the governing body of St. Elizabeth. Our Bishop's Committee members for 2018 are as follows:
Philip Johnson, joined Dec. 2017
Dave McCoy, joined Jan. 2017
Tina Otto, joined Nov. 2017
DJ Sartorio, (Junior Warden since Jan. 2016), joined Jan. 2016
Terri Thompson, joined fall 2013
Julie Warfield, (Bishop's Warden since fall 2016), joined March 2015
Charlie Welvaert, joined Jan. 2018
Lisa White, joined July 2015 (Treasurer since July 2015)
Sarah Williams, joined Jan. 2017
A few reminders on Episcopal Church terminology. St. Elizabeth is not a parish, but a mission of the Diocese of West Texas. A mission is under the direct supervision of the diocesan bishop. Because of that, unlike the members of a parish vestry, the members of a bishop's committee are not elected but appointed directly by the bishop, who consults with the vicar regarding appointments. Like the bishop's committee itself, the vicar is also appointed directly by the diocesan bishop. Thus, while both a parish and a mission are under the authority of the diocesan bishop, the bishop's authority is more immediate when it comes to a mission. Clear as mud?
I remind us of all that because I imagine not all of us are clear on how, exactly, someone is selected to serve on the BC. We do not vote on BC members. Ultimately, the authority to appoint members resides with the bishop. In practice, the bishop appoints only after receiving recommendations from me. The names I offer to the bishop come from conversations with other members of the BC and our observations about who might be able and willing to serve given family commitments, responsibilities at the church, experience, etc. Maturity, spiritual depth, open-mindedness, an ability to listen to and work with a diverse group of people, and a commitment to the mission of God at St. Liz are all essential. BC members are expected to contribute financially to St. Liz with the understanding that, like the rest of us, they should be taking healthy steps towards tithing if they are not able currently to do so. Other factors I consider are maintaining a mix of personalities, stages of life, and balance of women and men on the BC. As vicar, I work particularly closely with the wardens and treasurer.
So far, our process has gone like this: when a good idea for a potential BC member comes along, I have a preliminary conversation with that person, ask them to pray and sleep on it, and then a couple days later see what initial questions they have. If they're still open, and if schedule allows, I invite them to sit in on a BC meeting (which are open to the congregation). If that goes well, I then have them speak with one of our wardens to get a better handle on what responsibilities are like and to give them a chance to ask any questions they may have about working with me. (For all I know, it's maddening!) Finally, if we all still feel good about it, we touch base one more time, and I recommend their name to the bishop. That's how our process has worked so far since I've been here. It may change.
Four practical questions: first, why do we have nine members? I set this number so as to have a critical mass for conversation at meetings. We also have an odd number of members so as to avoid a split vote on anything (however unlikely a split vote might be). One change we are considering for down the road is making the treasurer a member of the BC by virtue of office, with voice and usual treasurer responsibilities, but without vote, at least on financial matters. This would potentially increase membership on the BC from nine to ten (nine voting members + a treasurer).
Second, who votes? While I chair the meetings and do most of our agenda setting, I do not vote. The BC usually makes decisions by consensus; however, we vote on all financial matters and reflect the outcome of the vote in our minutes.
Third, how long does a BC member serve? We ask for a three year commitment, though a term may be longer or shorter depending on the needs of St. Liz or an individual BC member. To help continue a smooth leadership transition, I have asked all members who were on the BC when I arrived who were able to continue serving to do so. I have also asked our wardens and treasurer to continue through 2018 in their current roles, with the understanding that part of their work will be to begin training their replacements. We have added three new members (Tina, Philip, and Charlie).
Finally: what does the BC do? A lot! We have a full job description. Here's a summary: there are weekly tasks like helping count the plate offerings, opening up and locking up on a Sunday, and participating in our monthly meetings. More ongoing responsibilities include being an ambassador for St. Liz in our communities and on Sunday mornings, serving as a sounding board for me and offering me support (one member in particular is particularly good at reminding me to take a day off!), participating in our ongoing work with Dr. Whitesel (our consultant), staying involved with St. Liz's various programs and ministries, representing St. Liz at Diocesan Council, and helping to identify and execute opportunities for mission, leadership, and spiritual growth. The wardens and treasurer each have additional responsibilities. Each BC member is also a part of a task force related to our work with Dr. Whitesel, but that'll be its own newsletter!
So, that's who our Bishop's Committee members are, and that's a bit of what they do. I hope you'll continue to pray for them, as they're praying for you, too. The BC and I will be at the seminary in Austin all day Saturday for a day retreat. I bid your prayers that our time together will be Spirit-filled, energizing, playful, discerning, and creative.
God's Peace
Fr. Daniel+