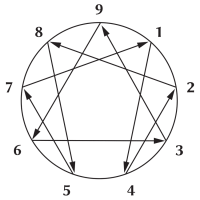 The Enneagram: Nine Shapes of Sin, Nine Shapes of Grace
by The Rev. Daniel P Strandlund | January 24, 2019
The Enneagram: Nine Shapes of Sin, Nine Shapes of Grace
Hi friends, as you may have heard, our Life Groups are reading a book about the Enneagram right now, and on Saturday, March 16
th
, St. Liz is hosting an Enneagram 'Know Your Number' event taught by Lucy Strandlund. I hope you'll plan to come. Today, however, I want to say a little of how the Enneagram has aided me in my own spiritual life.
I am a Seven on the Enneagram. One of the key drives for Sevens is the desire to avoid pain, in the broadest sense. Anger, sadness, physical pain, boredom—really anything that isn't fun, interesting, and as intensely enjoyable as possible. Sevens crave satisfaction but fear that we won't ever have it. So, we come up with a hundred different plans and little pleasures. (For example, at one point a couple summers ago, I was trying to learn French, Spanish, and Russian at the same time. Needless to say, it didn't work!) Sevens put all our energies into what's next, hoping that the
next
thing will satisfy us. What's really going on is that we're trying to stay ahead of unpleasant feelings. We have all these plans, yet because we flit so quickly from this to that, we don't pursue any of them to completion or with any great depth. Why would we? If we stuck with something, it might get too difficult or boring, and that would be painful!
Thus, the 'original sin' of Seven personality is gluttony: pursuing an excess of experiences while savoring very little. Suzanne Stabile, Lucy's teacher and one of the authors of the book we're reading, sums up Seven personality like this: "Sevens settle for
more
." More food, more drink, more exercise, more work, more play, more books, more items in a series separated by more commas.
As a student of the Enneagram, I'm aware of all this, but awareness is where my work
begins
. If the original sin of Sevens is gluttony, then my temptation might be to develop a series of rigorous disciplines to curb my appetites and channel my energies more productively. "I will not start another book until I finish this one," or "I will give up eating at restaurants for two weeks," or "I will say Morning Prayer, Evening Prayer, and Compline every day for a month," or whatever. But look at what's happening: by flying off into
more
disciplines, I'm fighting my Seven-ness with more Seven-ness! I've ended up in the ridiculous position of being a glutton for asceticism—which, needless to say, is not satisfying. St. Paul's words in Romans 7:15 come to mind: "I do not understand my own actions. For I do not do what I want, but I do the very thing I hate." I've simply traded one intensity for another.
When it comes to the Enneagram, your number is your number is your number. I'll never not be a Seven; trying to "fix it" through will power won't work. What I
can
become is a Seven who is more and more transformed by the grace of God. For Sevens, that means opening to God in the present moment, regardless of whether the present moment is unpleasant or less interesting than I want it to be. It's not easy. As a Seven, I'm practiced at thinking quickly and darting off to the next thing, both physically and mentally, before I've actually
felt
all the little frustrations and griefs life brings my way. If I'm going to allow the grace of God to transform me into the satisfied, joyful person I want to be, I have to let all those negative feelings catch up and pass through my soul. That's the baptism to which I'm called as a Seven: going more slowly, feeling all of the bad along with the good, paying attention to the desires of others rather than only my own plans. When I allow God to reach me in this very particular way, I find that not only am I a better husband and priest, but I'm happier, more satisfied, more at home in my life as it is.
There are nine Enneagram numbers, so it will likely be different for you. A Five or a Nine, for example, might have to practice identifying priorities and acting on them
more
often, not less. But whatever your number is, you can rest assured that your path of transformation will involve something you don't want. That's the power of the Enneagram as a spiritual tool: it takes seriously that original sin isn't just an abstract doctrine without concrete, discernible content. Nor does it pretend that God's transforming grace is simply something that happens in the next life. We are an incarnate people; therefore, both our sins and our experiences of grace have real-life particularities.
Lucy Strandlund is teaching the Enneagram at St. Liz on Saturday, March 16
th
. You'll leave the event knowing your Enneagram number, or at least have made progress in identifying it. Furthermore, no one will simply tell you what your number is, nor will you be given a test to determine it. The process of discovery and transformation is yours to undertake.
I hope you'll come.
God's Peace,
Fr. Daniel+