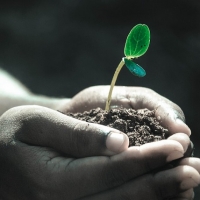 The Goal is Good Churching
by The Rev. Daniel P Strandlund | March 21, 2019
Hi friends, 2019 is already an exciting time at St. Liz. A new playground, a new Godly Play group for older kids, our experimental new Campsite service at 8:15am, plans for this summer's St. Liz Kidz camp, increased clarity around volunteer roles in the form of job descriptions, and a new roof going up…and that's on top of all the good things that are already part of our life together!
Much of this growth is exciting and easy to embrace. Lots of kids can be a bit chaotic, but it's a joyful chaos. A new playground is good news. (It was the site of an intense game of Simon Says after church this week. Alas, I never got to be Simon….) A complete set of volunteer job descriptions may not be an obvious cause for celebration, but it's a big step towards sustainable, long-term health. Our spring class of newcomers are engaged and getting to know everyone.
Something like adding a second service on Sunday mornings, however, is a kind of change that brings a bit more anxiety. A brief update: as you'll recall, we are currently in the midst of a temporary experiment with an 8:15am Eucharist that is pared down from our 10:30am service. Before we settle on a more permanent schedule, however, we need a lot more feedback from the congregation. Your Bishop's Committee will focus on this at our next meeting on April 14
th
, and the plan is to solicit broad congregational feedback during Easter Season (April 28
th
– June 9
th
). As of now, the earliest we would begin a more permanent two-service schedule would be fall of 2019.
Today, however, I want to address some of our anxieties about this new, 'second service' territory. Anxiety about adding a second service is natural because let's face it: right now, Sunday mornings are really good. Not perfect, certainly, but really, really good. Why risk that by adding a second service? What's our goal in doing this?
The first question is more difficult because it's the one that confronts us with the hardest truth: the Church doesn't belong to us, and therefore, neither does our Sunday morning schedule. The Church is the Body of Christ, which means that our life together takes its form and content from Jesus of Nazareth. Jesus is the One whom God sent into the world that the world might be saved; His very life was not his own, but an offering from God to the world.
If we would be the
Body
of Christ, we must likewise be an offering from God to the world, the bread of heaven given from the doors of St. Liz. In simpler terms, we might say that the Church is an organization which exists for the benefit of people who are not (yet) its members. We
are
the Church, but our identity as Christ's Body is given to us, not something we have earned or made for ourselves. This identity exists in large part in our offering the whole of our common life to those without a community of faith to call home. This self-offering is our mission, and it includes our worship schedule (which is reaching capacity).
As Jesus says of his own mission, "For this reason the Father loves me, because I lay down my life in order to take it up again" (John 10:17). If we would be a living testament to the life of Jesus of Nazareth, then we should be prepared to do likewise: for this reason the Father loves us, because we lay down our Sunday schedule in order to take it up again.
Right now, some of us are feeling the anxiety of realizing that we may have to lay it down. Some of us are already excited about what it might look like when we take it back up again, which is to say what its resurrection might look like. One day soon, Sunday mornings could look different than they do now. Or, they could be largely the same. We just don't know yet. What we do know is that the Holy Spirit is with us constantly in this. Because this is the same Holy Spirit who has formed us into the loving community we are, then we can rest assured that whatever a two-service St. Liz will look like, she will still look like
us.
So, as you think and pray about this, remember that this is conversation is about our mission, our self-offering to those without a faith community. Thus, I hope our guiding questions are not primarily ones of what is most convenient, interesting, or comfortable for
us.
Rather, I hope they're questions like, "What gifts has God given St. Liz, and how can we adapt and change and create space in our Sunday schedule to share those with more people?"
This brings me to the second question: what's our
goal
in all this?
Our goal with a second service is the same goal we've always had: being the Church, the community in which Christ reigns as Lord. Nothing more and nothing less. Our goal is simply to continue proclaiming the Good News of God in Jesus Christ, the forgiveness of sins and the hope of life everlasting. The only reason we're discerning how best to add a second service is because y'all are good at proclaiming and practicing this Good News. Folks are catching wind of it, and we need to make room for them.
In other words, growth is not our goal; it's just the fruit of the goal. Right now in Buda, growth is
also
the environment in which we find ourselves. Growth is not only the fruit of good Churching; it's also the context in which we must carry out our mission.
Here's what I mean: the population of Buda within a seven-mile radius of St. Liz is projected to grow by 20% by 2023. That's the fastest growing area in the Diocese of West Texas. That's the environment we're in, the sheer
fact
of a growing town.
But St. Liz is also bearing fruit. Because of your good Churching, St. Liz has grown even faster than Buda recently. I did the math today, and double checked it with the congregational development folks at the diocesan office to make sure I was reading the data correctly. I wasn't; we've grown faster than I thought we had. If the city of Buda is projected to grow by 20% by 2023, St. Liz has grown by almost 39%
since this time last year.
Now, we're a congregation that tends to have higher attendance in the spring than in summer and fall, so I don't expect we'll finish 2019 with an average Sunday attendance we currently have (around 111). And because that 39% growth rate is
so
high, and because it's a fairly recent trend, we shouldn't expect to continue growing quite that rapidly. (A measure of relief is appropriate!) But make no mistake: this is fast, and everything points towards a continued upward trend.
You heard it right, folks: it's probable that St. Liz is growing faster than the fastest growing area of the Diocese of West Texas. I will say it again: growth is not our goal; our goal is always and only good Churching. Growth is just a fact of the environment in which we pursue this goal. Because y'all are who you are, St. Liz is just growing a little faster than the community around us. I'm grateful to be a part of it.
Let's keep doing what we're doing.
God's Peace,
Fr. Daniel+