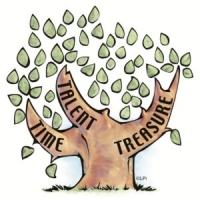 Time, Talent, and Nehemiah 3
by The Rev. Daniel P. Strandlund | November 9, 2017
Hi friends, recently I've been writing about financial giving in preparation for Consecration Sunday this week on November 12
th
. Today, I want to focus on other kinds of stewardship. We've talked about treasure, but we've not said much about time and talent.
Recently, our Old Testament readings during Morning Prayer have been mostly from Ezra and Nehemiah. Those two books tell a fascinating story. Here's the background: in 586 BCE, the empire of Babylon conquers Judah and destroys Jerusalem and its Temple. Babylon captures many of Jerusalem's citizens and holds them in captivity in Babylon. Soon enough, however, the Persian Empire conquers once mighty Babylon. The Persians aren't interested in keeping the Israelites hostage, so in 538 BCE, the king decrees that all the Jewish captives "are now permitted to go up to Jerusalem in Judah, and rebuild the house of the Lord, the God of Israel" (Ezra 1:3). The books of Ezra and Nehemiah tell the story of the Israelites' returning from exile and their work rebuilding the city of Jerusalem.
It took a long time. Work began in 538 BCE, and the Temple likely wasn't finished until around 515 BCE. The city itself wasn't completed and filled with people until sometime after 445BCE. That's a century worth of work, more than one generation's best efforts.
One of my favorite sections is Nehemiah 3 (even though the lectionary skips it). It's a specific account of all the repairs being made to the city walls, gates, and towers, along with details about who was doing what. Six towers and eleven gates are mentioned. The first and last gate mentioned is the Sheep Gate (3:1 and 32). I imagine this is because the author is walking the perimeter of the city, just telling us what he sees, and he eventually arrives back where he started.
What's startling about chapter three is the number of people: by my count, thirty-six distinct households or people groups are named. Only six of those are mentioned as making multiple repairs. Among the workers are goldsmiths, perfumers, priests, merchants, and the daughters of a ruler. Thirty-six households rebuild the walls of an entire city, and not a single architect, contractor, or bricklayer mentioned.
These unqualified but faithful volunteers rebuild a city the grandeur of which causes Jesus' disciples to marvel over four-hundred years later (Mark 13:1). Thirty-six households committed for the long term can build the city in which God accomplishes the redemption of the world.
Thirty-six households. According to our most recent directory, St. Elizabeth has 111. "But," you say, "church directories are notoriously inaccurate compared to the number of active participants!" Fair enough. But if even one-third of our directory are active participants, we're at thirty-seven households. And that's not counting the Boy Scouts!
This past Sunday was the Feast of All Saints. We had extra special music, baptisms, guests, and some friends we hadn't seen in a while. Just this past Sunday morning,
at least
all of the following people were directly involved: Mark and Wanda Slater and the choir; the Altar Guild; our ushers; the Bishop's Committee members of the day; Rocki Fiero and our coffee hour hosts; Krista Piferrer who makes the butterfly stones for baptisms; our acolytes; our LEMs, lectors, and intercessors; Kimra Hamilton and Ruth Anne Bloor in Godly Play; Kevin Hammond's acolyte leadership; our round-up verger before the service; David and Rachel Joiner greeting people and making sure there are plenty of welcome bags for us to deliver to any visitors; Philip Williams who makes the faith chests for baptisms; all the pour souls I "voluntold" to help me with my sermon—and that's not counting
any
of the folks who offer their time and talent the other six days of the week making fidget-buster bags, keeping the facilities and grounds looking pretty and in order, tracking our expenses and revenues, supporting each other in life groups, or any of the other hundred gates, towers, and walls in need of constant attention. I could go on, and I haven't said anything about the million ways you offer God a sacrifice of time and talent outside our church community—but that's a different newsletter for a different day.
St. Elizabeth a mission of the Diocese of West Texas. It's tempting to imagine that "we're just a small church." So what? Jesus started with a handful of fishermen, a tax collector, and a scandalized Samaritan woman he met at a well. Lots of times when I or another of our leaders asks someone to help with something, they protest, "But I'm not qualified to do that." So what? Perfumers and jewelers rebuilt Jerusalem.
What I'm saying is this: your presence and your best efforts matter. Your time, your talent, your loving attention and affection—they are the only tools God has ever used to build the City in which He might dwell with His people. The City we're building here isn't primarily a literal one of walls and buildings; it's community, relationship, service, spiritual food for people of all ages. Without
you
, all the money in the world couldn't build Jerusalem. Without
you
, there is no city on a hill where the gates are always open to those seeking the love of God. Without
you
, there is no Church. Like the first Israelites returning from exile, the work of building God's City requires the best efforts of more than just our generation; we won't complete it in our lifetime. Thankfully, God calls us unqualified laborers home to faithfulness, not success. I'm grateful to be with you, tending the walls, gates, and towers of God's City. Let's keep the Sheep Gate open.
God's Peace,
Fr. Daniel+