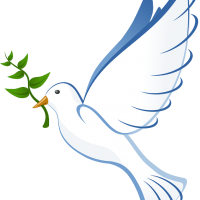 What are we doing when we pray?
by Fr. Daniel Strandlund | September 1, 2017
Hi friends, I hope everyone's homes are drying out and patched up after the storms, and that you've gotten word from loved ones in Rockport, Port Aransas, Houston, and elsewhere.
When disaster strikes as it did this week, it's difficult to know what to do. Oftentimes we're left with little to offer besides words like, "I'm thinking about y'all" or "I'm praying for friends in Houston." For some of us, these are strong words: what could be more helpful and supportive than beseeching the Lord's aid? For others of us, the words feel empty and ineffectual. We feel as perhaps St. James felt in his letter, "What good is it…if you say you have faith but do not have works?" (2:14).
Wherever you are in all of that, it's okay. You're not alone. Today, I want to help us understand what it is we're doing when we "think about" or "pray for" someone.
Christians believe that people are made in God's image (Gen. 1:27). But what is God's image in us, specifically? One way Christians have answered that question is to say that the image of God dwells in us most fully in our minds, which is to say in our faculties of thought and imagination. There are serious issues with this argument if pressed too far (I'm happy to talk about them with you elsewhere), but it can be helpful in understanding what it is we're doing when we think about loved ones, especially when they're suffering.
In John's Gospel we read, "In the beginning was the Word" (1:1). Where we read "Word" in English, the Greek says
logos
, which is where we get "logic" and the "-logy" in "biology." When we read that "all things came into being through" the Word, it's a bit like saying God conceived of and imagined into being the sun, moon, and stars, the earth and all its creatures. There's an order, a kind of beauty and coherence, a
logic
to how creation works. Since this Word became flesh and dwelt among us as Jesus of Nazareth (John 1:14), then we know that this
logos
of God is compatible with being human.
It fits, then, to say that the image of God dwells in humanity most fully in our ability to think, to notice patterns, to imagine and design, to recognize and remember faces. God holds each of us lovingly in existence in a way that is similar to how, when you're driving a long stretch of highway, you suddenly start to think about that friend you haven't seen in so long. Or in line at the laundromat you all of a sudden wonder how your cousin is doing after her husband died. Or how in a few quiet moments on your lunchbreak, your heart breaks with both pity and gratitude for our new friends Greg and Dian from Rockport.
The reason we are moved to smile, or moved to tears, when we think about those we love is because it's not just a mental picture of them we're painting in our minds; something of who they
really
are lives within us. Because all things come into being through God's Word, and because in our own small way we share in that Word, we are susceptible to the presence of our loved ones even when they are far away. Thus, we are able to weep for them, even to sustain them in some mysterious way. When we say, "I'll be praying for you during your job interview," or "I'm thinking about my sister-in-law who lost her home in Houston," what we are really saying is this: I hold you in the image of God that dwells within me.
But we can go further. We are made in God's image, and wherever we find God's image, we find Jesus, even if sometimes it's a dim reflection of him, for "Jesus is the image of the invisible God" (Col. 1:15). Therefore, when we pray for somebody, we are holding them not only within the image of God in us, but also within the life of Jesus. To hold someone within the life of Jesus is to situate them in a story whose end is Resurrection.
That is no small thing. Perhaps it is why St. Paul says of prayer that "the Spirit helps us in our weakness; for we do not know how to pray as we ought, but that very Spirit intercedes with sighs too deep for words" (Romans 8:26). When we pray, when we intercede for someone, even perhaps when we think lovingly of them, despite the felt insufficiency of our prayers we nevertheless allow the objects of our spiritual attention to enter the life of Jesus, to pass through our tears and onto higher ground by the power of the Holy Spirit.
So, keep praying, friends. You build an ark with your affection.
Daniel+