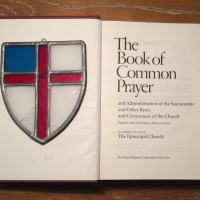 What's Going on with the Bulletin?
by The Rev. Daniel P Strandlund | February 16, 2018
Hi friends, if you were able to attend our Ash Wednesday service this week, you noticed that our bulletin was much more compact than usual: just our welcome message, page numbers for
The Book of Common Prayer
(1979)
,
numbers of hymns in the blue hymnal, and copies of the readings. Don't worry, this is not a permanent change! However, our bulletins for most of Lent will follow this simpler format. Today, I want to write about why and offer some tips on how to navigate the new style.
The primary reason we're taking a break from our regular, full service bulletin is to increase our comfort level with the
Book of Common Prayer
(BCP). This is part of our Lenten practice as a community this year. Many of you have commented on how much you appreciate our starting each Sunday with a prayer from somewhere in the BCP, and how you've always wanted to know how to use that book. Here's your chance!
One of the great things about being an Episcopalian is that we're a big family spread throughout a house with many rooms, so to speak. St. Elizabeth is a sister congregation with dozens of others throughout the Diocese of West Texas. Our Diocese itself is a sister diocese to dozens of others throughout the Episcopal Church in the USA. What unites us as Episcopalians is the BCP. (And bishops—but that's another article!) At a principal Sunday service anywhere in the Episcopal Diocese of West Texas, whether you're in Buda or San Antonio or Port Aransas or Camp Capers, you'll be worshipping God through a BCP Holy Eucharist.
But you won't always get the same bulletin. We're taking on the Lenten discipline of using the BCP and hymnal because I want us to be at home in our own house, so to speak, no matter which room we're in. You are equal members of the Diocese of West Texas family. I want us to be involved in Family Camp at Mustang Island. I want us to go to Camp Capers. I want us to go to Cursillo and Happening. And when we're at those places, if we're comfortable with
The Book of Common Prayer
itself, we'll be comfortable and confident in worship, no matter what the bulletin looks like. It's one of our family treasures, and I want us to know how to use it. Plus, when we're familiar with the BCP and the blue hymnal, then we start to notice the things we do at St. Liz that make us unique, things that make St. Liz
our
room in God's house.
A secondary reason is stewardship. Printing a full, sixteen page bulletin each week costs us $5,700 a year. And that's 83,200 pages a year into the recycle bin. Our Lenten bulletin is one eighth that size, and it's less expensive. Thus, not only does the Lenten bulletin give us the
practice
of using the BCP, it's an exercise in stewarding our resources differently.
Now, having said all of that, this isn't a permanent change; it's a seasonal discipline for Lent. We may repeat it for a few weeks at a time every now and then, but our 'normal' is still the full service bulletin. There's great stuff in there about the service, and it's incredibly helpful for visitors and newcomers, particularly if they've never been to an Episcopal Church before. So, if you're anxious about this temporary change, or if you just plain don't like it, don't worry! It's only for a few weeks. I hope you'll give it a shot.
Here are a few tips on how to navigate the black BCP and blue 1982 Hymnal with ease. First and foremost, if you've never used the BCP or hymnal before, don't worry! I'll be giving instructions as we go. The service will still move along like it usually does. The words will be familiar, and most of the sung pieces of the service will be, too. It's just that they'll be in a book and not in a bulletin!
Second, hashtag is hymnal. A "#" beside a number means it's in the hymnal. If it's just a number without a hashtag, it's a page in the prayer book. So "#142" is Hymn #142 in the blue hymnal,
not
page 142 in the BCP. If you see "355," there's no hashtag, so that means it's the prayer book, page 355. If it says #S-, then it's in the Service music section of the hymnal in the front. For example, the sanctus (the "holy, holy, holy" piece we sing at communion) is #S-124.
Finally, and this one is the most fun, get a church buddy! Pair up with a friend or family member or familiar face of someone you see all the time but have never met, and work the service together. Pick one person to be in charge of the hymnal, and one person to be in charge of the prayer book. Stand next to each other, and share! It's half the work and you might even gain a new friend in the process.
I look forward to seeing everyone Sunday. We'll begin on page 355! And if you have your own 1979
Book of Common Prayer
, please feel free to bring it. The page numbers should be the same, promise!
Thanks for playing along, and God's peace,
Fr. Daniel+