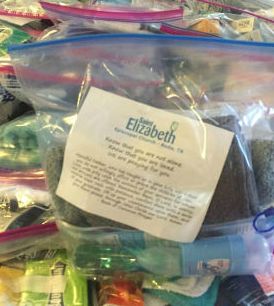 Jesus said: Love your neighbor as yourself.
Ministry and mission all flow from this commandment of our Lord. At Saint Elizabeth we are determined to share the abundant love of God with the city - both in Buda and in Kyle. Our mission takes many forms and our ministers go everywhere they find a need in our communities.

You'll find more information about specific mission and ministry in this section.
LifeGroups currently not meeting due to Covid concerns.
Sunday Morning Ministries
St. Elizabeth has many ministries that you can get involved in on Sunday mornings!
Our Awesome Acolyte Corps
Acolytes are young persons who assist with the worship service in very particular ways.
Senior Acolytes
(Senior High School) are eligible to serve as Gospeler and Crucifers. A Gospeler carries the Gospel Book in procession and holds it for the priest while it is being read. The Crucifer leads the processions with the processional cross and assists the priest in preparing the altar for the Eucharist. Senior Acolytes may also serve as banner bearers and torchbearers.​
Middler Acolytes
(Middle School) are eligible to serve as Banner Bearers, candle lighters, Torchbearers, and Chapel Crucifers. Chapel lead the children's procession to Children's Chapel.
Junior Acolytes
are eligible to serve as bell ringers during the Eucharist.
Training is provided several times a year. Acolytes are expected to attend all training, as well as the annual diocesan celebration, the Acolyte Festival, held annually in the late spring, usually in San Antonio.

Contact Kevin Hammond to learn more about serving in this ministry: volunteer@st-liz.org
Altar Guild
Altar Guild is a group of teams who care for the altar and its appointments, vessels, and linens. The Altar Guild sets up each week for the Eucharist, tending to the Lord's Table and assuring that the bread and wine are ready, the candles are filled, and the flowers are purchased and arranged.
The Altar Guild prepares for Baptisms, Weddings, and Burials, and handles seasonal extra decorations such as the Advent Wreath, poinsettias at Christmas, and Easter Lilies and the Flowering of the Cross. The Altar Guild also plays a key role in Maundy Thursday worship service. Kim Fry is the Altar Guild Coordinator.
Contact Kim Fry to learn more about serving in this ministry:
volunteer@st-liz.org
Children's Chapel
We offer Children's Chapel during the 11:00 am service and is geared towards kids who are out of the nursery but are not quite old enough to engage what is going on in the first part of the church service (which tends to be pretty wordy). Our purpose is to help bridge the gap that younger kids can have in understanding and following the scripture readings, sermon, and prayers.

We help children identify God working through them in their own lives and apply concepts of service, prayer, and faith to the way they live. Kids begin worship with their parents and then are invited to Children's Chapel during the scripture readings and sermon, except on Cross-Generational Sundays and Gathering Days, when we all worship together.

Contact Erin Kowalik to learn more about serving in this ministry: volunteer@st-liz.org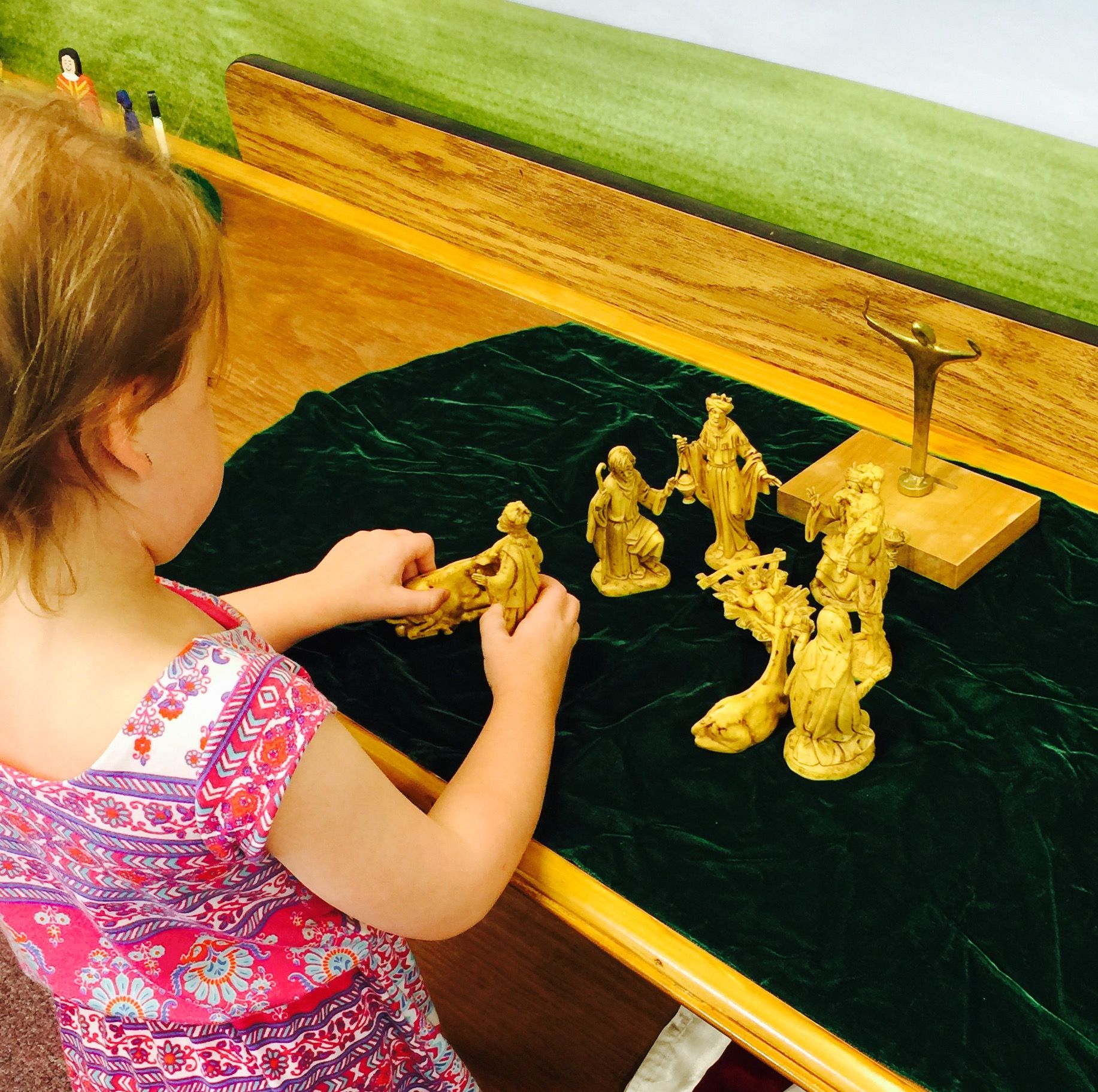 Godly Play
St Elizabeth welcomes all children to Godly Play Sunday School, which currently meets during the 8:45 am Sunday service.
Godly Play is Montessori-based Christian Education that offers a sacred space for children to experience God by hearing stories from the Bible, and then responding through wondering, working with hands-on materials, and art expression in a peaceful, prepared classroom environment.
Click here to watch an Introduction to Godly Play from the Godly Play Foundation.

Contact Ruth Anne Bloor to learn more about serving in this ministry: volunteer@st-liz.org
Layreaders
Layreaders perform several important functions in the Sunday worship service.
Lay Eucharistic Ministers (sometimes abbreviated "LEM") are licensed by the Bishop to assist in administering the chalice during communion. Currently, LEMs also read portions of Scripture in the worship service (usually the Old Testament and the Psalm.).
Lectors are appointed by the pastor to read portions of scripture in worship.
Intercessors are appointed by the pastor to lead the Prayers of the People in worship.
Contact Will Piferrer at volunteer@st-liz.org for more information on Lay Readers and Lay Eucharistic Ministers (chalice servers).
Choir

Make a joyful noise unto the Lord, all ye lands.
Serve the Lord with gladness; come before his presence with singing.
Psalm 100: 1-2

At St. Elizabeth, we incorporate a wide variety of music to support and enhance the liturgy of the Episcopal service. From Classical to Jazz, Folk to Contemporary, Gospel to Camp, the history of sacred music is rich and we are happy to explore together the many forms of praising God in song. We rehearse Wednesday evenings from September through June, 7-9pm, and meet again at 9am on Sunday mornings throughout the year. We also have lots of fun at our choir parties! Be sure to check the calendar for details on all our activities!

Want to know more? Wanda Slater is a classically trained soprano soloist & vocal teacher and we begin each rehearsal with warm ups. Vocal techniques, breath control and ear training are sprinkled throughout our rehearsals with the hope that each of our dedicated musicians will continue to grow and gain confidence as a choral singer. We are also fortunate to have Mark Slater working with us to provide arrangements and original compositions, as well as weekly trumpet accompaniment along with Daniel Bloor on French Horn. And on special occasions and high holidays we are blessed with a host of other truly gifted musicians who give generously of their time and talent.

We are always happy to include new singers & musicians and if you're interested in sharing your musical talents at St. Elizabeth, we encourage you to come up and visit us after service.

Wanda B. Slater at 860-304-6446 or volunteer@st-liz.org