Children's Chapel and Godly Play
Children's Chapel
We have implemented an exciting new format geared towards kids who are out of the nursery but are not quite old enough to engage what is going on in the first part of the church service (which tends to be pretty wordy). Our purpose is to help bridge the gap that younger kids can have in understanding and following the scripture readings, sermon, and prayers.

We help children identify God working through them in their own lives and apply concepts of service, prayer, and faith to the way they live. Starting in the September, the Children's Chapel Bible lesson will go along with The Story curriculum that we will be using throughout the church.

We are super excited about how much the kids like the new format. We hope you'll engage a child - your own or one you meet at coffee hour - in conversation about what they are doing in Children's Chapel. And of course, we'd love to talk to you about it, too.

Kids begin worship with their parents and then are invited to Children's Chapel in the Children's Chapel Building during the scripture readings and sermon, except on Cross-Generational Sundays and Gathering Days, when we all worship together.
Godly Play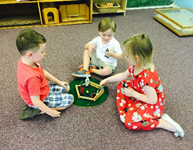 Godly Play is Montessori-based Christian Education that offers a sacred space for children to experience God by hearing stories from the Bible, and then responding through wondering, working with hands-on materials, and art expression in a peaceful, prepared classroom environment. Godly Play was created by the Rev. Dr. Jerome Berryman, who has spent over forty years developing the Godly Play curriculum and sharing the joy of Godly Play with children of all ages, all over the world.

Who can attend Godly Play?
Godly Play is primarily suited for children ages Pre-K through Elementary school. That being said, all children at Saint Elizabeth ages 4 and up are welcome.

Where and when does Godly Play happen?
Please bring your children to the church playground by 9:10 on Sunday mornings. Children will line up and enter the Godly Play classroom as a group promptly at 9:15. Godly Play ends at 10:00. Godly play meets every Sunday during the school year and breaks between Memorial and Labor Day weekends.

How can I learn more about Godly Play?
Click here to watch an Introduction to Godly Play from the Godly Play Foundation: