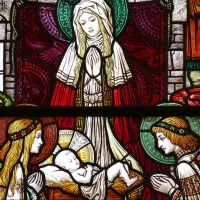 Christmas Season Schedule
By The Rev. Daniel P. Strandlund | December 11, 2019
Blue Christmas Eucharist on Saturday, December 21st at 6pm in our worship space.

Christmas Eve celebration of the Holy Eucharist will begin with music at 5pm.

Christmas Day, we will celebrate the Holy Eucharist at 10am.

Beginning Dec 15, Godly Play will meet at its new time at 9:45am in the Mission Hall. There is no Godly Play on December 29th or January 5th. Godly Play will resume on Sunday, January 12th—again, at 9:45am.

Adult Sunday School has concluded for the fall and will resume on February 2nd.

On Monday, January 6th we will gather at the home of Kim and Michael Fry at 6:30pm to celebrate the Epiphany of our Lord. (Our bonfire this year will be a bit tamer, as we've an artificial tree this year!) Bring an hors d'oeuvres and/or beverage of your choice! St. Liz will provide all the s'mores supplies.

Back