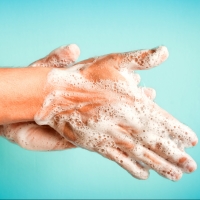 Coronavirus Communication
By The Rev. Daniel P. Strandlund | February 29, 2020
Hi friends,

I'm writing to address growing concerns over the spread of the Coronavirus, particularly 1) how we as a community can help keep each other healthy and 2.) how COVID-19 may or may not impact our celebration of holy communion at St. Liz.

1.) Much of how we can help keep each other healthy is common sense. If you have a fever, stay home, and if you're on the fence about whether or not you're well enough for church, err on the side of letting your body rest. We get no extra faith points for 'powering through' when we're ill! Wash your hands thoroughly and regularly. Make frequent and liberal use of our many hand sanitizer dispensers in our worship space (as I do). As to the Peace, if you're more comfortable, it is perfectly acceptable to wave or bow without making physical contact.

2.) What of sharing communion, particularly the common chalice? A colleague from elsewhere in the Church was helpful here. What is most salient for us is this: first, if you are at all concerned, please feel free to receive only the bread and not the wine. This is not 'doing communion halfway,' for Christ is fully present in both bread and cup. To receive only the bread still 'counts,' so to speak. If you would like the chalice server to pass you by, just cross your arms over your chest.

Second, it is more sanitary to drink from the cup than to intinct (dip). This sounds counterintuitive, but intincting inevitably leads to hands making contact with the sides of the chalice or with the wine itself. A sip is more sanitary, especially since our LEMs know to wipe the chalice and turn it for the next communicant.

Finally, scientists have studied whether common cup communion practices increase the spread of contagious diseases. Their conclusions are comforting. I was able to access the full text of the 1998 journal citation noted by my colleague in the link above. The relevant finding is this: while there is a theoretical possibility of a shared communion cup increasing one's chances of transmitting or contracting a disease, "the risk is so small that it is undetectable."[1] Specifically, one study of 681 persons demonstrated that "people who receive Communion as often as daily are not at higher risk of infection compared with persons who do not receive communion or persons who do not attend Christian church services at all."[2] This is comforting to hear.

So, be smart, keep calm, and continue loving the Lord and each other. See you in the morning.

God's Peace,

Fr. Daniel+
---
[1]
"Risk of Infectious Disease Transmission from a Common Communion Cup
," letter to the editor in American Journal of Infection Control. Vol. 26, Issue 5, October 1998, pgs 538-539.
Lilia P. Manangan RN, MPH; Lynne M.Sehulster, PhD; Linda Chiarello RN, MS, CIC; Dawn N. Simonds, BS; William R.Jarvis, MD
[2]
Loving AL, Wolf L. Effects of holy communion on health [Abstract Q-298}. Proceedings of the 97th General Meeting of the American Society for Microbiology; 1997 May 4-8; Miami Beach, Fla. Cited in source listed in note 1 above.
Back