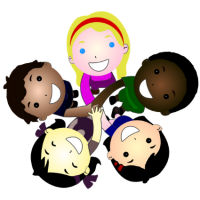 Godly Play Returns
By The Rev. Daniel P. Strandlund | August 20, 2020
Godly Play: Godly Play will begin on Sunday, September 13th and will meet every other week through November. Godly Play will gather via Zoom at 9am on Sundays, lasting roughly 30 minutes. The Zoom platform (as opposed to prerecorded YouTube videos) allows kids to experience the Story together rather than individually. Parents are encouraged to participate.

Godly Play will begin on an every other week schedule for two main reasons. First, we're all learning new ways of being Church right now, and it's important to me that St. Liz only make commitments we are confident we can uphold. An online, biweekly schedule is manageable. Second, we're maximizing flexibility. Much still remains unknown about the fall, and an every other week schedule gives us additional space to change directions and adapt programming as needed. Plus, if it goes well, we can easily shift to an every week schedule.

Godly Play Sundays for the fall are 9/13, 9/27, 10/11, 10/25, 11/8, and 11/22.

Back