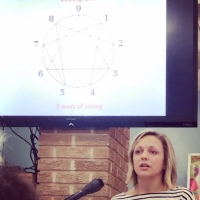 The Enneagram at St. Liz
By The Rev. Daniel P. Strandlund | December 20, 2018
The Enneagram at St. Liz

Hi friends, below you'll find a calendar of events for the next few weeks. But I want to call your attention to one event in particular. On Saturday, March 16th, St. Liz is hosting an Enneagram Workshop from 9am-3pm. Lucy Strandlund will be teaching. We'll be publishing more about the Enneagram in the coming weeks…and Lucy will be at church on Sunday to answer any questions you might have!

In addition, I'm inviting the whole church to read a book called The Road Back to You: An Enneagram Journey of Self-Discovery by Ian Morgan Cron and Suzanne Stabile.[1] This is an accessible introduction to the Enneagram. Our Life Groups will be reading it for the first part of the semester, but if you're not already part of a Life Group, we have some copies available. They're $20. You're also welcome to purchase your own.

In my sermon this past week, I said that one of the things that sometimes stands in the way of our experiencing God's presence as fully as possible is the stories we tell ourselves about our past. Sometimes we rehearse our pasts as though we're (always) the hero or (always) the victim of our own story. Neither of those is a full picture. The Enneagram is one tool we can use to grow, not only in our knowledge of the inner workings of our own souls, but also in our capacity to feel compassion for others. I hope you'll participate.

God's Peace,
Fr. Daniel+

Christmas Eve
Music, candlelight, and an interactive Nativity Scene sermon our kids will help with. Our Christmas Eucharist celebration will begin with music at 5pm.

Christmas Day
We'll celebrate the Holy Eucharist at 10:30am. Kids, wearing your pajamas is perfectly okay!

Sunday, December 30th
Godly Play will take a break for this Sunday morning.

Sunday, January 6th
Godly Play resumes!

Epiphany 'Burning of the Greens' Bonfire
Sunday, January 6th at 6pm! We'll gather for a potluck + bonfire at the home of Juan and Susan Guerra. 108 Jay Jay Cove, Kyle, TX. S'mores and hot chocolate provided.

Sunday, January 13th
Andrew Green's Ordination to the Sacred Order of Priests at 5:30pm at the Episcopal Church of the Holy Spirit, 11093 Bandera Road, San Antonio, TX 78250.


---
[1]
If you start Googling all this Enneagram stuff, Suzanne Stabile is a name you can trust. Ian Cron is a great writer (
Chasing Francis
was a good read), but apart from his work with Suzanne, I do not recommend him for learning the Enneagram.
Back