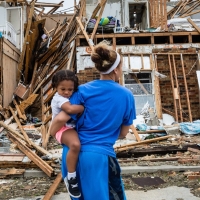 Packing Hygiene Kits
By Rev. Daniel Strandlund | August 28, 2017
While there is still very little in the way of on-site volunteering to be done to help victims of Harvey, we do have some tangible action items we're able to pursue. Details can be found through the diocesan website at www.dwtx.org

Specifically, this Saturday at 2pm in the Mission Hall, I'm inviting you to help pack hygiene kits for storm victims and evacuees. I will be purchasing products for hygiene kits, listed below, and I encourage you to do the same. All who are able are invited to bring any supplies you have or have purchased to the Mission Hall this Saturday, Sept 2nd at 2pm, and we'll assemble them together. This could take 20 minutes or 2 hours, depending on supplies and hands. It'll be fun to work together regardless!

Hygiene kit
1 hand towel
1 washcloth
1 comb
1 travel size soap or body wash
1 toothbrush & travel size toothpaste
Travel size shampoo & deodorant
6 adhesive bandages
Pack in gallon zip top bag

A more complete list of needs can be found at the website above. (Needed kits include not just hygiene kits, but kits for babies, pets, and cleaning supplies.) You are of course welcome to shop for and assemble kits on your own or with your family. If you do so, please bring the kits with you to Church Sunday morning so that we may include them at the altar during the offertory.
Back