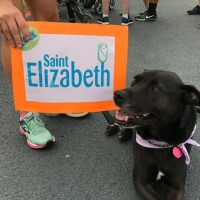 St. Liz Nami Walk a Success!
By Paula Goodson | September 25, 2017
Thanks to everyone who made St Elizabeth's NAMIWalks effort a success! We had 5 participants (including Zooby) work with 1400 others in the Austin area to help stamp out the stigma of mental illness. We raised $619, just shy of our $700 goal. Donations will be accepted for the next couple of weeks. If you want to donate, please click on our secure walk page, at https://www.namiwalks.org/team/StLiz2017, or hand a check/cash to Fr Daniel or Paula Goodson.

NAMI is the National Alliance on Mental Illness. They provide lots of free services for individuals and their families. You can get information by going to NamiAustin.org or contacting Paula Goodson at spee@austin.rr.com.

Back