Greetings St. Liz,
The Woods family is very excited to begin our time with you this coming week. It has been a long hot summer for us as I am sure it has been the same for you.
I am writing this after standing outside with our oldest daughter, Harper, as we watched a nice little summer rainstorm pour down upon us. It was just long enough that it knocked the heat out of the air and left a cool breeze in its wake. It was cool enough that we actually felt like spending more than ten minutes outside after the storm passed. ...Read More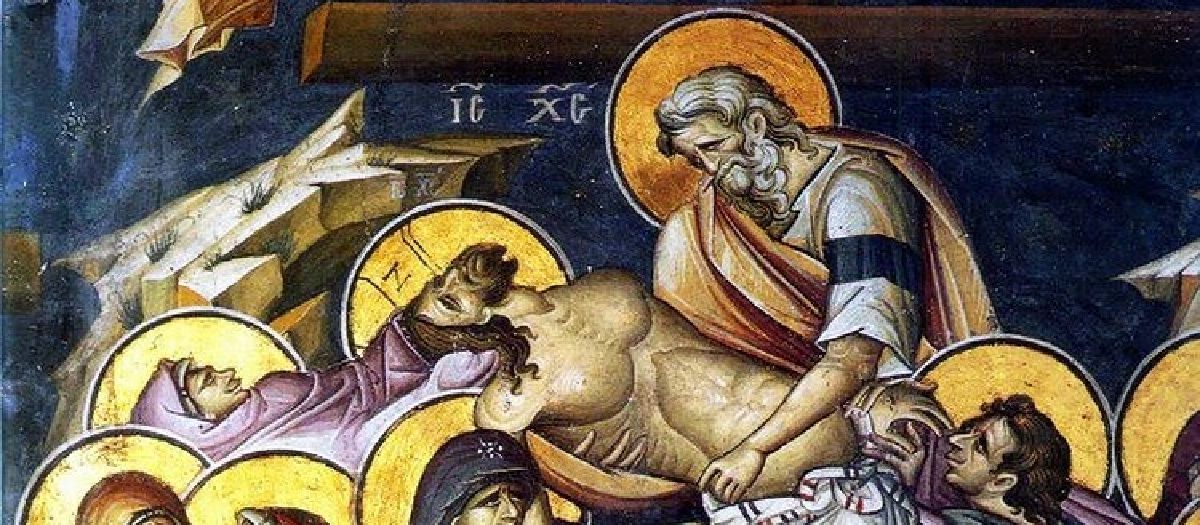 Arimatheans: a Reflection for my Fellow Priests During the Second Holy Week of Pandemic
by The Rev. Daniel P Strandlund on
April 2, 2021
"Joseph of Arimathea, a respected member of the council, who was also himself waiting expectantly for the kingdom of God, went boldly to Pilate and asked for the body of Jesus."
-Mark 15:43
To my Colleagues in Ordained Ministry,
I made our seminarian lead bible study the week before Holy Week. We focused on Mark's passion narrative for Palm Sunday. I had never noticed that Joseph of Arimathea, the man who collects Jesus' body and places it in the tomb (15:43, 46), is a member of the very council that had condemned Jesus and handed him over to Pilate (14:55, 15:1). I've always imagined Joseph as well-to-do, influential, well-educated, but nevertheless one of the good guys. Salt of the earth in a nice suit. You know, an Episcopalian.
That picture blurred a bit this week. We know that Joseph was waiting for the kingdom of God (15:43), which is a stroke squarely in his favor. But we also know that it was the "whole council" looking for testimony against Jesus (14:55). Presumably, that included Joseph. So which is it? We don't know. All we do know is that Joseph was one of the guys in the room when the decision got made to hand Jesus over to Pilate.
I want to know what he said.
Did he rail against it? Did he go reluctantly along? Was he on board, and if so, why? Did he say nothing at all? Perhaps most important: when Joseph went boldly to Pilate to collect Jesus' body, was it out of a sense of decorum, or because something fundamental inside of him had changed forever after seeing Jesus on the barren tree?
I don't know. I bring this up because, like you and like Joseph of Arimathea, I'm a leader in my religious community. I'm the most visible and powerful leader in my congregation. I am always in the room when the decision gets made.
We are now in our second Holy Week of the pandemic. In the past thirteen months we have done church online, outside, in small groups, inside but with masks and without music, by reservation, in the wind and in the rain and in the dark. We have led the Ministration at the Time of Death over Zoom and been denied entry into nursing homes. We have live-streamed funerals and postponed weddings. We miss the unselfconscious chaos of all the kids. The rituals and muscle memories and community rhythms upon which we and our parishioners rely have been disrupted and at times removed entirely. And let's not forget the budget.
In the midst of all this, we clergy have climbed into the pulpit to acknowledge and condemn our country's racism while also loving the police officers in our pews. We have tried to be trustworthy and reliable despite the inefficacy and lies told by elected leaders. We have seen democracy pushed to the brink and a Texas blizzard threaten our basic infrastructure.
Our congregations have suffered, and we have suffered with them. The local bodies of Christ entrusted to our care have suffered. Like you, and like Joseph of Arimathea, as my congregation has navigated the past thirteen months, I was always in the room when the decisions got made. And perhaps like you, I don't know if I've made the right ones.
I don't know that any more than I know what Joseph of Arimathea said in the room where that decision got made. I do not know if I have resisted when I should have pushed, or pushed when I should have resisted. If I have encouraged bad habits or been reckless or too fearful. If I have unknowingly condemned the holy or fought for it with everything I have. I have not always understood when a congregant's anger just needed a good container and when it signified something determinative in our community.
There is so much done and left undone.
Joseph of Arimathea's presence on the council poses a question for those of us afforded respect and leadership in the Church during a time of national crisis: is Christ's body condemned because of what we have said in the room, or despite what we have said? In other words, have we used our power well?
I'm not sure this is a question we need answered, which is good because it likely never will be. But I am grateful that the question troubles me. It feels like a symptom of something necessary, like the after effect of an honest encounter with that great boundary between creature and Creator. Maybe you can relate.
It feels like the pandemic as we have experienced it thus far is finally—if slowly—coming to an end. More vaccines, less adrenaline, our hopes not pinned arbitrarily to this or that date. I am not going to say that any of us has priested well or poorly these thirteen months because I do not know and because my opinion does not matter much. Any evaluation of that kind is beside the point, anyway. It just seems necessary to name that we have been making hard decisions on behalf of our churches for a long time now, and we do not know if they were the right ones.
Today is Good Friday. Jesus dies on the cross today, and when he is dead Joseph of Arimathea goes boldly to Pilate and asks for the body so that he may wrap it in a linen cloth and lay it in the tomb. We do not know what Joseph of Arimathea said in the room where Jesus was condemned; therefore, we do not know whether the gentleness, fidelity, and respect he shows to Jesus' body now is an act of repentance or just one more clear-headed commitment by a leader to what is most precious.
I don't know what the last year has been like for you, or what decisions are now before you as a respected leader in your communities of faith. I don't know what you have said in the rooms where decisions got made this year, or what you are feeling about the decisions and tasks ahead. I don't know if what is next in your ministry with your congregation is a kind of repentance or a confident continuation of leadership. Or both. Or something else.
I know only that I am grateful to be counted amongst you, and that my gratitude is somehow sweeter because together we have endeavored to do this work during an epoch which will not soon be forgotten. You are in my prayers this Good Friday as we Arimatheans step forward with impossible boldness and ask once again that the Body of Christ be given into our care.
God's Peace,
Daniel+
back