Greetings St. Liz,
The Woods family is very excited to begin our time with you this coming week. It has been a long hot summer for us as I am sure it has been the same for you.
I am writing this after standing outside with our oldest daughter, Harper, as we watched a nice little summer rainstorm pour down upon us. It was just long enough that it knocked the heat out of the air and left a cool breeze in its wake. It was cool enough that we actually felt like spending more than ten minutes outside after the storm passed. ...Read More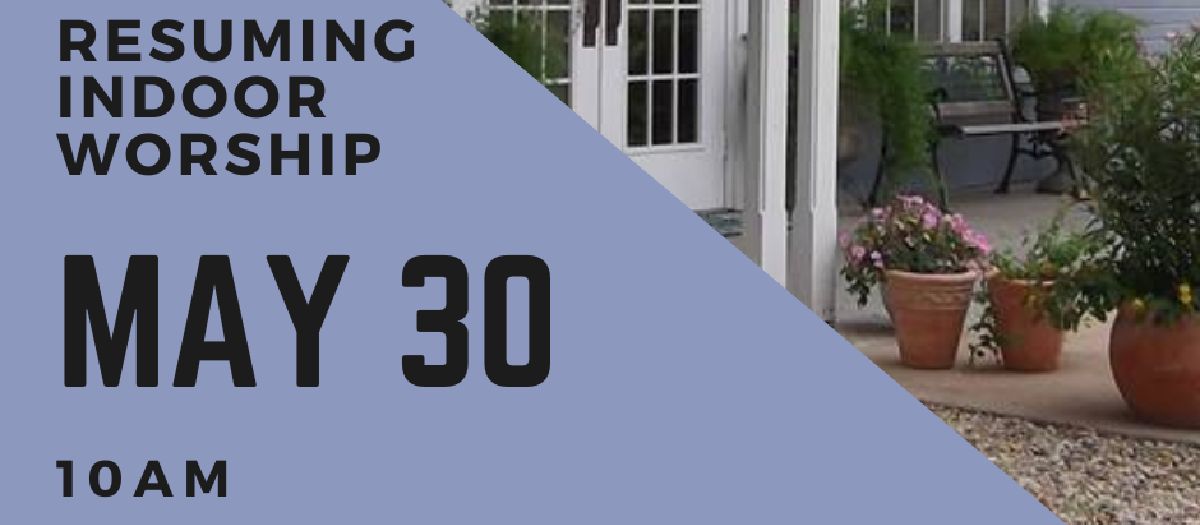 Resuming Indoor Worship on May 30
by The Rev. Daniel P Strandlund on
April 22, 2021
St. Liz will resume worshipping indoors and in-person beginning Trinity Sunday, May 30th. I am just tickled pink to say that we're doing this whether it's rainy or not!
Your Bishop's Committee and I met this past Sunday evening to discern together and make what decisions we felt we could make in regards to resuming in-person worship. Here are the fruits of that conversation, and what you can expect:
*Indoor worship resumes May 30th with one service @ 10am. We will continue to
live stream this service and broadcast into radios.
*Communion will continue to be in one-kind only, just bread, for the time being. We
will come forward to receive. We're committed to keeping communion traffic 'one way' as much as possible so as to avoid crowding.
*Masks are required for those physically present, save when inside your own cars.
This applies for attendees ages 2 and over, as is consistent with CDC
recommendations. (Exceptions are for liturgical necessities. Preaching, readings, when consuming communion bread, etc.)
*We will observe social distancing, which will decrease the number of available
seats. We think we'll have enough to meet our needs, though.
*Seating will be available in the narthex (lobby) and on the porch, both for
overflow and for folks more comfortable there. Sound projects into the narthex. Outdoor sound outside might be best via radio.
*To maximize seating, we will not have a choir seated as a choir. We will have
music and some (masked) congregational singing. We are still discerning how best to maximize instrumental and vocal music safely.
*Hand sanitizer will be readily available. All doorknobs, faucets, and other
frequently touched surfaces will be sanitized.
*Contact Tracing: if you attend a service indoors, and in the days following
learn that you have COVID, please inform me directly. I will let the congregation know via email of possible exposure so that households may respond accordingly. I will not share your name with anyone.
*We will not ask that reservations be made beforehand in order to attend.
*We will not check, track, or otherwise inquire about vaccination status.
*We will not have nursery or children's chapel. Godly Play will observe its
customary summer break. Children of all ages are welcome, and I expect all of us to extend grace as necessary to those with the squirmies.
*There will not be fidget buster bags available as these would be difficult to keep
clean. Families are welcome to bring from home whatever quiet fidget buster materials they feel are necessary!
*We intend this structure to be in place through Labor Day and will correct
midcourse as needed.
Needless to say, we haven't thought of everything, and it's not clear yet what else might change. Still, I am excited about this new chapter. Already it feels like a homecoming. God gives us altars so we can use them, and I look forward to gathering around ours soon.
Joyful as it is, this transition will be bumpy and awkward. We'll have to trust each other even more than usual. Respecting personal space, remembering that our neighbor may have a different comfort level with contact than we do, trusting that God has made us into something more than a potential carrier of a virus—in short, we will have to love each other deliberately. Some of us may be called to risk just a bit more than we'd like; some of us may be called to moderate ourselves just a bit more than we'd like. That's what deliberate love looks like right now. Fortunately, St. Liz is good at that, so I'm not worried. We know who we are and Who God is. That gets us a long, long way.
Finally, I want to thank some folks. I am grateful to our Bishop's Committee for their prayerful discernment and for their pastoral and logistical work, both in the past few days and in the weeks to come as we prepare to re-enter our sanctuary. I continue to be grateful for the work of Wanda and Mark Slater, Daniel Bloor, and Kevin Hare who have solved numerous technical problems and who continue to set up and take down AV and digital equipment each week. Mark and Wanda's creativity in adapting our worship both musically and visually is a particular blessing. I am grateful as well for Kim Fry, our Altar Guild head, for her flexibility and faithfulness in preparing for and cleaning up after worship. Who would've thought that the 'Low Altar' she made so the kids could learn in a hands-on way about the Eucharist would come in so handy for church-on-the-lawn?
And thank you, too, for all the ways you show up for each other. I hope that one day soon you'll be able to show up in new ways—or in ways you've not been able to for some time. It's Easter Season, after all. The stone in front of the tomb isn't a door we can open ourselves, but it will open. I look forward to seeing you when it does.
God's Peace,
Fr. Daniel+
back