The Story is an abridged, chronological Bible that reads like a novel. There are no verse references, and Scripture segments are seamlessly woven together with transition text into a single grand narrative. For those intimidated or overwhelmed by the unabridged Bible, The Story helps people understand God's Word more fully and engage with it more easily. The Story brings the Bible to life!
Starting in September 2016, Saint Elizabeth will gear all of its teaching – preaching, Children's Chapel, study group discussions, Youth Group, and more to The Story, a 31-chapter abridged Bible. There are coordinated editions for adults, youth, kids, children, and toddlers. We'll all take it one chapter per week, with a break around Christmas, and finish the whole Bible together in the spring.

Books are available for purchase at the church building on Sundays or by contacting Sarah Williams. Each family will need one book for each age level in the family. The books cost about $10 each. We'll help families if they need it.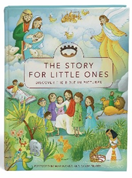 The Story begins, of course, with Creation, and moves at quick clip through the compelling stories of God's encounters with people, particularly those he has chosen to be his beacons to the world. We'll break it down into chunks so that it is never overwhelming. Before you know it we'll be wrapping up with the incomparable poetry of the Revelation to John!
Children's Chapel
We have implemented an exciting new format geared towards kids who are out of the nursery but are not quite old enough to engage what is going on in the first part of the church service (which tends to be pretty wordy). Our purpose is to help bridge the gap that younger kids can have in understanding and following the scripture readings, sermon, and prayers.

We help children identify God working through them in their own lives and apply concepts of service, prayer, and faith to the way they live. Starting in the September, the Children's Chapel Bible lesson will go along with The Story curriculum that we will be using throughout the church.

We are super excited about how much the kids like the new format. We hope you'll engage a child - your own or one you meet at coffee hour - in conversation about what they are doing in Children's Chapel. And of course, we'd love to talk to you about it, too.

Kids begin worship with their parents and then are invited to Children's Chapel in the Children's Chapel Building during the scripture readings and sermon, except on Cross-Generational Sundays and Gathering Days, when we all worship together.
Godly Play
Godly Play is Montessori-based Christian Education that offers a sacred space for children to experience God by hearing stories from the Bible, and then responding through wondering, working with hands-on materials, and art expression in a peaceful, prepared classroom environment. Godly Play was created by the Rev. Dr. Jerome Berryman, who has spent over forty years developing the Godly Play curriculum and sharing the joy of Godly Play with children of all ages, all over the world.

Who can attend Godly Play?
Godly Play is primarily suited for children ages Pre-K through Elementary school. That being said, all children at Saint Elizabeth ages 4 and up are welcome.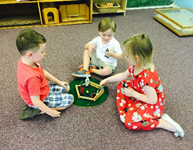 Where and when does Godly Play happen?
Please bring your children to the church playground by
9:10
on Sunday
mornings. Children will line up and enter the Godly Play classroom as a group promptly at
9:15
. Godly Play ends at
10:00
.
How can I learn more about Godly Play?
Click
here
to watch an Introduction to Godly Play from the Godly Play Foundation:
Youth Group
Our new-and-improved Youth Group launches on Sept 11 with weekly meetings from noon-1:30 on Sundays.

The Youth Team is led by Laura Lozano, Youth Leader; DJ Sartorio, Youth Coordinator, and Jacob Gonzalez, Youth Intern.

Youth Group will follow a pattern of weekly rotation of Sunday afternoon meetings:
GROW: Two Sundays a month discussing The Story at a youth level in tandem with the whole congregation. But - with fun and games!

GATHER: One Sunday a month at the Gathering cross-generational experience (or Sunday Dinner in the months without a Gathering).

SERVE: One Sunday a month in organized mission work in the community.
For Adults
Life Groups begin the week of September 11.

Life Groups are about checking in with a group of people about what's happening in your life, and processing that alongside Scripture and the Christian journey. New groups will begin when we start The Story on September 11 (using a DVD curriculum and handy discussion guide - nothing to make up from scratch or study beforehand, but built-in flexibility).

IF YOU'D LIKE TO HOST at your home or business location (including after hours), we'd like to equip you to do that. All it requires is a screen you can watch a DVD on, and maybe shoving the laundry off the sofa and into a pile. Contact Susan Guerra or Dave Joiner to say you're interested, and we'll help you from there. Alpha grads, you are definitely ready for this! Sign-ups for the groups are coming soon.